Ice and Fire – 20 days (Cape Town, Antarctica, Rwanda)
A Scheduled Trip to Antartica, Rwanda

Highlights
As pioneers of impactful, yet luxurious expeditions to Africa and Antarctica, adventure-filled journeys, you will not only be exposed to new landscapes, cultures and ecosystems, but also to new ways of viewing the world, our place in it and, ultimately, its sustainability.
• Fly seven hours at 10 000 feet above the ice to the South Pole; observe a colony of 14 000 emperor penguins and their young chicks.
• Enjoy abseiling, cross-country skiing, fat biking, and ice climbing.
• Spend an unforgettable hour watching a family of mountain gorillas interact at Volcanoes National Park.
• Marvel at Akagera's prolific savannah wildlife - including lion, leopard and elephant among others.
• Revel in Rwanda's rich culture, local heritage and fascinating history
---
Scheduled group tour from
January 8, 2023 - January 28, 2023
Starting from
USD 127,275
per person sharing
Duration
20 days / 19 nights
Accommodation
Lodge or Hotel
---
About this Safari
This 20-day journey offers arguably the most exciting and unique wildlife experiences in the world: weeks-old emperor penguins and endangered mountain gorillas. Fly seven hours at 10 000 feet above the ice to the South Pole and circumnavigate the globe in just a few steps. Witness a colony of 14 000+ emperor penguins and their young chicks, and go abseiling, ice picking and fat biking, all while enjoying the best in Antarctic luxury at Echo, White Desert's brand-new camp.
After a few days to rest and reset in Cape Town, embark on a seven-night journey through Rwanda to revel in Kigali's rich history, Akagera National Park's prolific wildlife, and Volcanoes National Park's endangered mountain gorillas.
Total number of days – 20
Rates – $127275 per person sharing
$64 857 single supplement
---
---
Day By Day Itinerary
8 - 10 January - One & Only, Cape Town

During a two-night stay at the One & Only in Cape Town, you will participate in a comprehensive safety ………

Contact us for more information.
10 - 18 January Echo, Antartica

During your eight-night stay, you will enjoy the rare opportunity to travel to the South Pole. A five-hour flight takes you to FD83, White Desert's expedition camp, flying 10 000 feet above the ice over the High Polar Plateau. After refuelling, the adventure continues with a ……

Contact us for more information.
18 - 21 January One & Only, Cape Town

Return to Cape Town aboard the same private jet to reset, re-pack, and prepare for the next leg of your journey. This three-night stay in Cape Town offers plenty of ……

Contact us for more information.
21 - 22 January Kigali Serena Hotel, Rwanda

Next up, Kigali, the bustling and culturally-rich capital of Rwanda, where a private Wilderness Safaris driver and guide will introduce you to the country's rich history. A helicopter flight takes you to Magashi Camp, one of Wilderness Safaris' newest properties, located in Akagera National Park. The park is ……

Contact us for more information.
22 - 25 January Magashi Camp, Rwanda

The prolific animal sightings at Magashi also include leopard, buffalo, zebra, and giraffe, amongst many other species, making for a classic East African safari experience……

Contact us for more information.
25 - 28 January Bisate Lodge, Rwanda

From here, you take a scenic helicopter flight to award-winning Bisate Lodge, located at Volcanoes National Park, for one of the most iconic African wildlife experiences: gorilla trekking. The villas at the supremely elegant Bisate Lodge are located on the slopes of an eroded volcanic crater, overlooking two enormous ……

Contact us for more information.
---
Tour Accommodation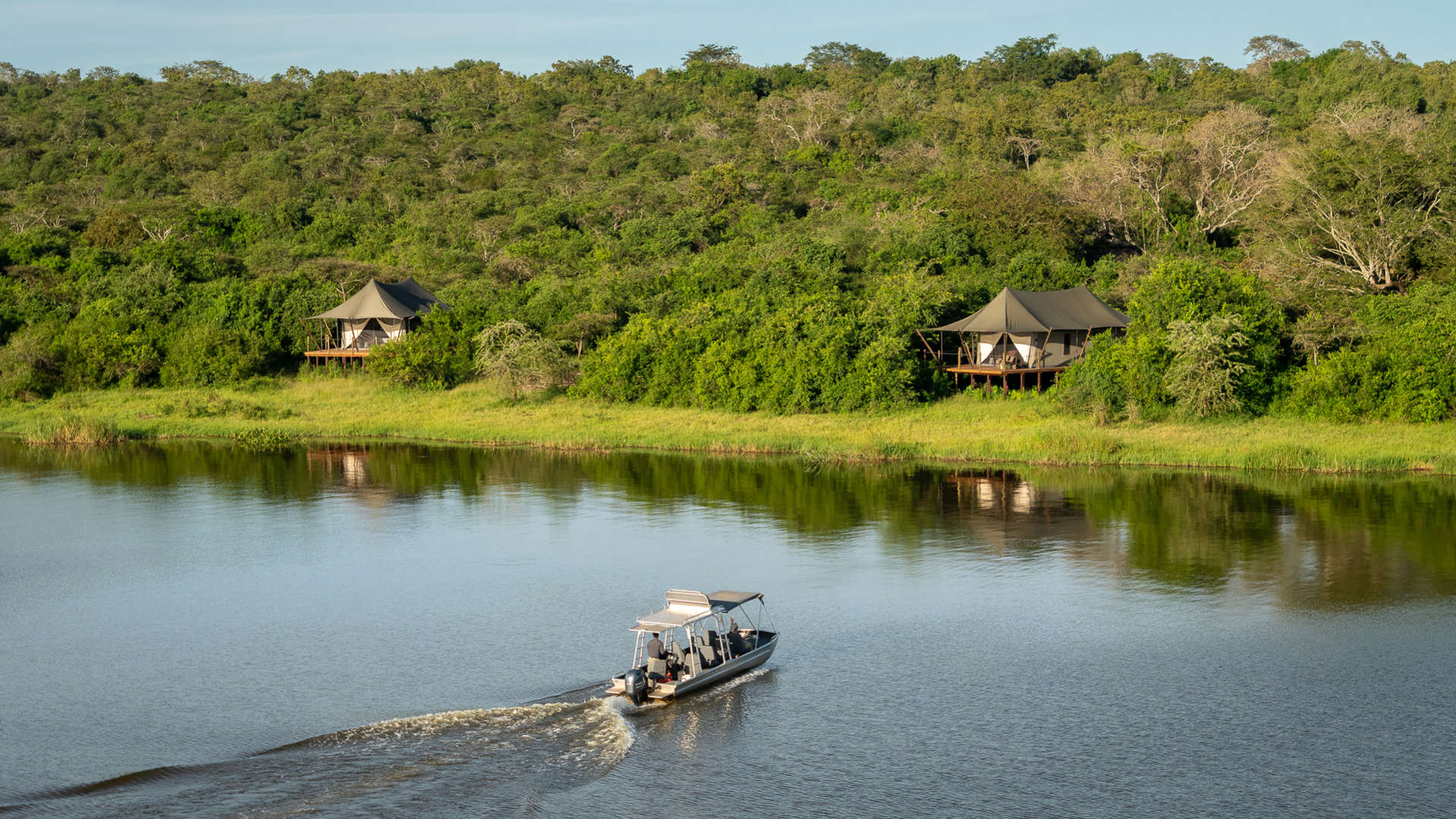 ---
More
ABOUT WILDERNESS SAFARIS and WHITE DESERT

As leaders in responsible tourism and conservation, Wilderness Safaris offers unforgettable luxury adventures that help preserve biodiversity, conserve wildlife and uplift local communities. Since its founding in Botswana in 1983, Wilderness Safaris has shared its passion for Africa, as well as its custodial sense of protection, and the urgency to protect these ecosystems and the life they support, with thousands of guests. Operating in seven countries across some 40 diverse camps, and protecting 2.3 million hectares (5.6 M acres) of Africa's wilderness, Wilderness Safaris is the world's largest conservation tourism platform.

Founded by world-record polar explorers, White Desert has transformed the isolated beauty of Antarctica into an exclusive playground, offering luxury accommodations and a host of adventurous experiences, including ice climbing, abseiling, rock climbing, and rope walking, as well as the rare highlight of visiting the South Pole. Protecting Antarctica's future is fundamental to White Desert's mission. In addition to supporting scientists performing ground-breaking research on the Antarctic ice shelf, White Desert's operations leave no waste on the continent and their camps are built with the lightest environmental footprint, similar to those of Wilderness Safaris, where all elements can be disassembled, leaving no trace.
---
Gallery
---
Best Time to Visit
This safari begins in Cape Town and ends in Rwanda.
---
Video
---
Enquire Now
We are travelling at the moment!
Dear Friends,

We are travelling across remote parts of Africa without access to stable internet. Thus, we are not accepting new enquiries at the moment.
We will be happy to assist you with your travels to Africa when we return (June 1, 2023).
Hope you have a great summer!
Warm regards,
Team Chalo Africa
---
Other Recommended Safari Tours