Let's Go to Tchad in 2022 (Chad Safari)
A Scheduled Trip to Chad

Highlights
A trip in splendid isolation to the interiors of Chad, including the Ennedi Cultural Reserve (a UNESCO World Heritage site protected by African Parks), home to the one and only picture-book Sahara Desert & its incredible rock formations; next is Ouadi-Rimé Ouadi-Achim Game Reserve in Central Tchad---base of the Sahara Conservation Fund (SCF) for the reintroduction of some of the rarest species of desert wildlife on earth! And finally, Zakouma National Park!
---
Scheduled group tour from
March 5, 2022 - March 18, 2022
Starting from
EUR 12,250
per person sharing
Duration
14 days / 13 nights
Accommodation
Tented Camps (Mobile and Permanent)
Exploring
Ennedi, Ouadi Rimé Ouadi-Achim, Zakouma National Park
---
About this Safari
Dear Adventurers and Explorers:
Chalo Africa is delighted to be sending another small-group expedition to the African nation of Tchad in March 2022! This will be our fourth straight year of sending adventure-minded guests to Tchad, and with each ensuing year, we get to know this little-known country a little bit better. We have solid infrastructure on the ground, and we have personally visited each of the places you will see on this trip.
For those of you looking for an adventure in isolation in these times of Corona, few places could match the wonders of Tchad.
Firstly, almost no one, outside of hard-core safari enthusiasts even knows that Tchad offers a first-class traditional wildlife safari experience. In fact, the number of people who visit Zakouma National Park are a few 1000 – compared to the few 100,000s who visit the popular safari parks of sub-Saharan Africa;
Tchad offers an otherworldly combination of incredible wildlife with mind-boggling desert scenery – think of the US Southwest on steroids! When we were here in March 2020, we were a grand total of 12 visitors (guests + crew combined) in a park of 60,000 sq. kms! Is it possible to ask for more isolation?
Last but not least, we are living in a different era now, where people are more thoughtful, more curious, more informed – and the vast majority of you want us to design more experiential holidays, and you would like to know that your travel will contribute to the greater good of our planet. This safari does all that and more.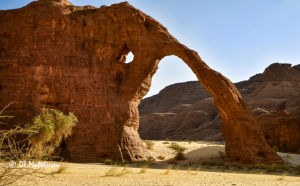 Rock Elephants and Real Elephants, Tchad has them both!
This trip will be led by pro wildlife guide, Zarek Cockar. Zarek is an accomplished and erudite Kenyan guide, with prior experience in Zakouma. His insights into the flora and fauna of the park will raise your safari experience to another level altogether. Here are a few of his comments from his 2020 trip…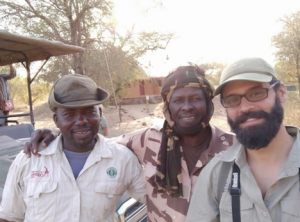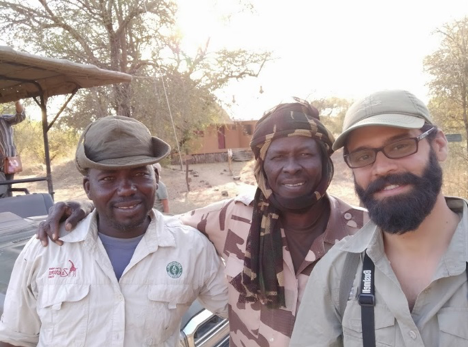 " There's something special about being in a wild environment, knowing there are very few other vehicles anywhere within the surrounding 3,000 Kmsq, and that very few other visitors will ever see this place. 
– Every drive that continued after dark was absolutely superb, and we were able to find a wide variety of species from Greyish Eagle Owl to Striped Hyena, and so many Genets and Civets that we stopped counting.
– Tinga camp is the perfect base for an experiential, down-to-earth safari that focuses on unpretentious, high quality wildlife-viewing.
– African Parks' operations in Zakouma are very impressive, and their conservation successes and community relations are to be highly commended. 
– While we seemed to get very lucky, compared to other guests staying at Tinga at the same time, our experience with the elephants, watching approx. 300 cross a river over the course of almost an hour, was nothing short of surreal.  It was one of the most emotional, beautiful wildlife experiences I've ever had as a guide, as the elephants' clear caution and anxiety slowly drifted away and turned to elation and joy as they played in the water.  Even the old bulls couldn't help but trumpet and spray water with complete abandon into the air.  Youngsters sloshed around, ears aflap, screaming and gargling with glee as they chased each other and bumped into the mums' legs.  As we all watched, utterly rapt, not a word was spoken, and a few tears were shed as we thought of Chad's tumultuous history and the extent of suffering these elephants had endured over the last 4 decades.  Their behaviour and social structure was not something we often see in the historical conservation fortress parks of East Africa, and I, for one, was completely absorbed in that moment.  The buzz stayed with me for days afterward."
We do hope that you decide to join Zarek on this extraordinary adventure.
Zarek, Sangeeta and Team Chalo Africa
---
Note: This is is  not your typical luxury "glamping safari". Although every effort has been made to make this trip comfortable, the emphasis here is on the experience and adventure. Please note that the cost of the trip reflects the luxury of its isolation, not the luxury of upmarket facilities.
---
Cost: The cost of this trip is 12,250 Euro per person (approximately US $15,000 based on current exchange rates). Please know that this tour will be billed in Euros. There is no extra charge for solo travellers (single tents available at no extra cost). 
Note: Since this is a group trip, we need a minimum of 6 participants to run this trip.
---
---
Day By Day Itinerary
Day 1: March 5, 2022 – Arrive in N'Djamena, Tchad

Our team will meet you at N'Djamena's Hassan Djamous International Airport (NDJ) and transfer you to your lodging…

Please contact us for the full itinerary. We'd love to hear from you!
Day 2: March 6, 2022 –  The Ennedi Natural and Cultural Reserve

After breakfast, you will be transferred to the airport for the first of your 3 private chartered flights of the trip. This first one will be a roughly 1.5-hour flight from N'Djamena to a remote airstrip in the Ennedi Natural and Cultural Reserve.
Days 3 through 5: March 7-8-9, 2022 – The Ennedi Natural and Cultural Reserve

The Ennedi Plateau is a sandstone bulwark in the middle of the Sahara Desert. 75% of it has yet to be explored and that's where you come in! This is a spectacular landscape marked by sandstone cliffs, natural arches, labyrinths, and bizarre rock formations.

Prehistoric people lived in its sandstone grottos…
Day 6: March 10, 2022 – Ouadi Rimé Ouadi-Achim GR

Today we will leave the rhythm of the desert behind and head south-west along an unremarkable dirt and gravel track to the Ouadi-Rimé Ouadi-Achim (OROA) Game Reserve in the center of the country. With its 77,950 protected square kilometers (the size of Scotland), OROA is arguably one of the largest protected areas on the African continent, but it is also a place whose name is simply unknown – even to Africa aficionados!

OROA is the site of one of the most extraordinary "re-wilding" experiments taking place in Africa today, where "extinct in the wild" (EW) and other critically endangered species such as the addax, scimitar horned oryx, Dama gazelles and Barbary ostriches are being given a new lease on life, thanks to the relentless work of the Sahara Conservation Fund, in partnership with a number of other conservation organizations worldwide…
Day 7: March 11, 2022 – To Zakouma National Park

Enjoy a final morning at OROA, perhaps visit the bomas, chat with the rangers, drive in the park – and then in the late morning (timing TBD), you will be driven by the team to the nearby airstrip, for your second charter flight of the trip. The flight from OROA to Zakouma National Park today will take roughly 2 hours…
Days 8-13: March 12-17, 2022 - Zakouma National Park

For lovers of wildlife, Zakouma is also one of the best conservation stories ever.  From the 1980s, when Zakouma's elephant and buffalo population had dwindled to near-zero until today – African Parks has stabliized and restored the elephant population to over 650 (many calves among them) and over 10,000 buffalo. The Zakouma turnaround story is sobering, profound and heroic: people have literally given their lives for this.

Apart from the elephants and buffalos, Zakouma wildlife includes lions (a healthy population of around 130), leopards (hard to see, though possible on night drives) and yes, cheetah!! Black rhino were re-introduced recently, though very hard…
Day 14: March 18, 2022- Back to N'Djamena & onward flight home

This adventure will end with a last 2-hour charter flight to from Zakouma to N'Djamena. Depending on the timing of your onward flight, you can either connect directly upon landing. If your flight is for later in the day, then we have booked 3 day rooms at…

Please contact us for the full itinerary. We'd love to hear from you!
---
Tour Accommodation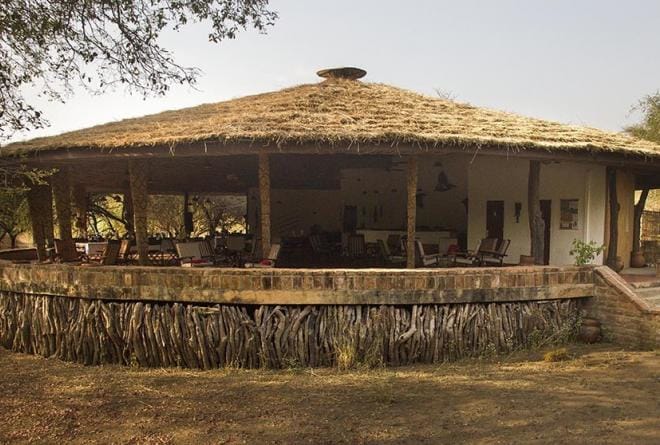 ---
More
Cost

The cost of this trip is 12,250 Euro per person. There is no extra charge for solo travellers (single tents available at no extra cost).

Note: Since this is a group trip, we need a minimum of 6 participants to run this trip. Please contact us for the detailed inclusions / exclusions.
---
Gallery
---
Best Time to Visit
This safari begins and ends in N'djamena, Chad, which has frequent connections with Addis Ababa (Ethiopian Airlines). This is a fly-in safari with private charters included.
---
Enquire Now
We are travelling at the moment!
Dear Friends,

We are travelling across remote parts of Africa without access to stable internet. Thus, we are not accepting new enquiries at the moment.
We will be happy to assist you with your travels to Africa when we return (June 1, 2023).
Hope you have a great summer!
Warm regards,
Team Chalo Africa
---
Other Recommended Safari Tours
View all safari tours in Chad »