Let's Explore Tassili N'Ajjer (The Algerian Sahara) in 2022
A Scheduled Trip to Algeria

Highlights
Tassili n'Ajjer is a vast plateau in south-east Algeria. It covers an area of 72,000 sq. km. with an exceptional density of the paintings and engravings, as well as the presence of many prehistoric vestiges. From Roman ruins to stunning dunes, from Touareg encounters to experiencing giraffes and hippos in the desert, this trip to the edge of Africa is not to be missed!
---
Scheduled group tour from
December 18, 2022 - January 2, 2023
Starting from
USD 5,450
per person sharing
Duration
17 days / 16 nights
Accommodation
Hotels and Tents
---
About this Safari
A Slow Meander through the Algerian Sahara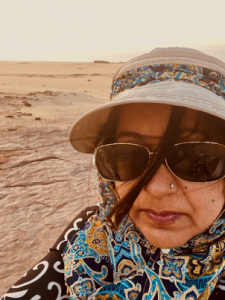 Dear Adventurers and Explorers,
All safaris are special but this one is a sort of homecoming for me. Algeria was the first African country that I set foot on as a young 22-year old, and the year I spent here left an indelible mark on my life, my career and my fascination with all things Africa. At the time, I was not mature enough to fully grasp the astonishing beauty of its surreal and mesmerizing desert landscapes, but our safari to the Ennedi Massif in Chad earlier this year (right before Covid struck!) was so enchanting that I was determined to come back here and re-explore this land where my love affair with Africa began. So welcome to the deep Sahara…
Shortly after I left Algeria, came the years of the 'lost decade' – a time of civil unrest when all tourism came to a grinding halt. Over the years, I have regularly followed the situation in the country, but it wasn't until quite recently that I felt that the time to go back was indeed here. Algerians are a wonderfully welcoming and warm people and I have so many memories of their kindnesses. In the old days, not everything was easily available in the country and I remember, whenever an 'egg boat' came to port, there would be long lines of people waiting to buy several dozen eggs at a time since people had no idea when they would get eggs again. I didn't know the system and would invariably miss out on the egg boat bounty, but every time he saw me looking despondent after an egg-run, the neighborhood baker used to reach under his counter, whisk out a dozen eggs, and present them to me with a grand flourish and a bow! But that's enough about my memories…😊
I do hope that you will decide to join me and make your own memories on this extraordinary adventure to the deep south of the Sahara Desert. Pictures speak louder than words, they say, so here are just a few to whet your curiosity…
Sangeeta
---
Tassili n'Ajjer
Tassili n'Ajjer is a vast plateau in south-east Algeria. It covers an area of 72,000 sq. km.  The exceptional density of the paintings and engravings found here, and the presence of many prehistoric vestiges, are remarkable testimonies to Prehistory. From 10,000 BC to the first centuries of our era, successive peoples left many archaeological remains, habitations, burial mounds etc. The area is also of great geological and aesthetic interest – with its panoramic "rock forests" of eroded sandstone, its differently hued sands ranging from red to black to golden, it resembles a strange lunar landscape and even boasts a very famous engraving that looks like a Martian!
The rock art images cover a period of about 10,000 years. It is the most eloquent expression of relationships between humans and the environment, with more than 15,000 drawings and engravings testifying to climate changes, wildlife migrations, and the evolution of humankind on the edge of the Sahara. This art depicts water-dependent species like the hippopotamus, and species which have been extinct in the region for thousands of years. From the magic-religious practices of the Round Heads to the representations of the Cattle Period, Tassili N'Ajjer overflows with exceptional examples of prehistoric parietal art.
Text excerpts: https://whc.unesco.org/en/list/179/
---
Trip Highlights
Roman ruins at the edge of the Mediterranean Sea
The dunes of Erg Admer, Moul N'Aga, Tin Merzouga and the Black Dune
The labyrinths of In Aloukou
The rock art of Dider, Tin Tefelrar and Oued In Djaren
The beautiful Iherir oasis and the Arch of Tikobaoine
The Cathedral of Tamezguida
The "Crying Cow" of Tagharghart
Touareg encounters
Giraffes & hippos in the desert
Mint tea at the end of the day…who could ask for more?
Well, perhaps a 'hammam' session in Algiers to close it all out 😊
---
Cost
The cost of this trip is USD 5,450 per person. No Single Supplement.
---
---
Day By Day Itinerary
DAY 1: DECEMBER 18, 2022- SATURDAY: ARRIVE IN ALGIERS, ALGERIA

Welcome to Algiers, where we will be met by the ground team and transferred to our hotel. Depending on what time we get in, we'll try and squeeze in a city tour and visit the town center, including Martyr's Monument and the Grand Post Office…

Excited? Get in touch with us for the full itinerary.
DAY 2: DECEMBER 19, 2022 - SUNDAY: ALGIERS- TIPAZA - DJANET

Honestly, this promises to be a crazy trip made up of a non-stop series of UNESCO World Heritage sites…
DAY 3: DECEMBER 20, 2022 – MONDAY: DJANET - TAMZGHOUDA

Simply landing in Djanet feels special. This small oasis town is located at the foot of the Tassili N'Ajjer (UNESCO WHS #3) and at the edge of Erg Admer, a vast sea of sand dunes. It is a classic oasis village –with large, shady palm trees waving gently to the slow rhythm of daily life in the desert…
DAY 4: DECEMBER 21, 2022 – TUESDAY: WAD EL BIREDJ

El Biredj is a wide canyon-like valley that takes us through the fascinating landscape of the Tadrart. The further into El Biredj we go, the more paintings and engravings we will encounter…
DAYS 5-6-7-8: DECEMBER 23-24-25, 2022 – WED-THUR-FRI: TADRART AKAKUS

At the end of El Biredj the high orange coloured sand dunes of Moul-N'aga make their appearance.The sharpness and shades of the dunes make this a classic desert landscape. The ride over the sand dunes is exciting and after passing some spectacular wind-sculpted arches we will arrive at the highest dunes of the Tadrart…
DAY 9: DECEMBER 26, 2022 - SUNDAY: ADJILAT – TAN ARSOUEO - TAGHRGHRAT

The Wadi In Djaren takes us from the Tadrart through a vast empty landscape to Alidema, an area of orange sand contrasting with black rock formations…
DAY 10: DECEMBER 27, 2022 – MONDAY: TIKOUBAOUINE AND GUELTA DU TOUIA

After breakfast, we will pop in briefly into the town of Djanet for a welcome shower and the joys of plumbing, perhaps visit the museum, then depart in 4 × 4 vehicles for more paintings and lunch in Tikoubaouine. In the afternoon, we'll visit more paintings, arches, the Guelta du Touia and return to camp for the night…
DAY 11: DECEMBER 28, 2022 - TUESDAY: IHERIR OASIS

This morning, we'll head towards the oasis if Iherir, stopping for lunch at the engravings of Dider; we'll arrive at Oasis Ihrir in the afternoon. We'll camp overnight in a traditional Touareg gîte.
DAY 13: DECEMBER 30, 2022 – THURSDAY: OUED D'ESSENDILENE & ERG ADMER

After breakfast, we will visit Oued d'Essendilene (canyons, guelta). Lunch, then departure in the afternoon towards Wad d'Erg-Admer – these are large sand dunes. Climb up the dunes to admire a magnificent sunset. Camp at Erg Admer for the night…
DAY 14: DECEMBER 31, 2022 – FRIDAY: TAGHRGHRAT – TIN AMALI

After breakfast, visit Tegharghart and its famous engraving of the Crying Cow. Return to Djanet for free time and a good shower before leaving for Tin Amali…
DAY 15: JANUARY 1, 2023 – SATURDAY: TISALATINE

After breakfast, it's a long road back from the desert along the impressive massif of Tisalatine…
DAY 16: JANUARY 2, 2023 – SUNDAY: TISALATINE – DJANET - ALGIERS

About midnight transfer to the airport for a flight to Algiers. The flight leaves at 03h10 and gets into Algiers at 05h25. Arrive in Algiers and transfer to the hotel for rest. Lunch and enjoy a last city tour. If you can connect to a flight home today, January 2, 2023, then you can do that. Otherwise, you can spend one last night in Algiers and fly home the next day.
DAY 17: JANUARY 3, 2023 – MONDAY: ALGIERS - HOME

Time for some shopping in the morning, then transfer to the airport, assistance with check- in & board your international flight home. Bon Voyage!
---
More
Cost

The cost of this trip is USD 5,450 per person. No Single Supplement.

For full inclusions / exclusions, get in touch with us.
---
Gallery
---
Best Time to Visit
This unusual expedition begins and ends in Algiers.
---
Enquire Now