Zambia Expedition: For Lady Liuwa with Love
A Scheduled Trip to Zambia

Highlights
For Lady Liuwa -- with love! The highlight of this thrilling Zambia expedition is your journey to Lady Liuwa's home — Liuwa Plain National Park. You will also be traversing through Kafue National Park, Mongu & the Barotse Floodplains. Camping under the stars, an experienced guide, and a great vehicle. What else could you want? This fixed departure itinerary is from November 16, 2014 to November 23, 2014, beginning in Lusaka.
---
Scheduled group tour from
November 16, 2014 - November 24, 2014
Price Available
On Request
Duration
8 days / 7 nights
Exploring
Kafue National Park, Liuwa Plain National Park
---
About this Safari
This is a safari we organised in 2014. We are keeping this itinerary on our website for the memory of Lady Liuwa.
---
This year (2014), operators like Robin Pope and Norman Carr are not offering safaris to Liuwa Plain National Park in the remote north-west of Zambia. Which is a pity because Lady Liuwa is getting very old and this year, for the first time in decades, there are lion cubs in the park.
Chalo Africa has stepped into this breach and brought you an authentic mobile safari to Liuwa Plain. Come join us on our adventure to see Lady Liuwa and her special pride of lions, not to mention the second largest wildebeest migration in this remote corner of Africa. Next year will not be the same…
Guided by Jason Alfonsi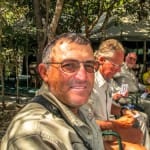 Jason was Robin Pope's assistant guide when he was leading trips to Liuwa Plain. He is one of an extremely small handful of guides who knows Liuwa well and we are delighted to welcome him aboard! Whilst there, we also hope to interact with the Zambian Carnivore Program for updated info on Liuwa's wild dogs, cheetah, hyena clans and Lady Liuwa's pride, of course!
---
Update 2017: Norman Carr Safaris have set up a permanent camp in Liuwa Plain National Park. Learn more here.
Update June 2017: Lady Liuwa, although much older, is still around. She has become an aunt to lion cubs brought into Liuwa Plain by African Parks. 
Update August 2017: With much sadness, we must let you know that Lady Liuwa is no more. Sangeeta remembers the Lady and her trip to Liuwa Plain NP, Zambia, in this tribute.
---
---
Day By Day Itinerary
November 16, 2014 (Day 1): Chunga Camp (central Kafue National Park)

On this, the first day of your adventure, we will pick you up from your accommodation in Lusaka and we will take the main tar road, eventually arriving at Kafue National Park after a drive of about 5 hours. We will drive through pristine Miombo forest to the campsite at Chunga (a part of Mayukuyuku camp).

Several small rivers cross this area, leaving a number of waterholes in the dry season for the animals to quench their thirst. Wild dogs, which roam large areas of the park, cheetah and lion are among the inhabitants here. You will explore the area this afternoon, before retiring to camp at dusk and enjoying the night sounds of the African bush.

Camping in the Kafue National Park. (FB)
November 17, 2014 (Day 2): Mongu & the Barotse Floodplains

We will do an early morning game drive in Kafue, before heading further west after breakfast, until we arrive in Mongu, our stopover at the edge of the Barotse floodplains. The drive to Mongu itself is on the well-tarred "Great West Road". The Barotse floodplains and the serious gravel/sand/pontoon adventure will be for the next day! Here we will stock up for the next few days in Liuwa.

Camping on the edge of the Barotse Plains. (FB)
November 18 – 22 (Days 3 – 7): Liuwa Plain National Park

There are very few roads into and within Liuwa Plain National Park. That, however, is part of the park's attraction: around 3660km² of untouched Africa. Most of this is a vast honey-coloured plain of grass, with just the occasional water pan, islands of raffia palms or a small tree-belt interrupting the scenery.

Thousands of wildebeest (estimated at close to 50,000), with zebra, tsessebe and buffalo, group together, joining the more static resident roan antelope, red lechwe and reedbuck. The open plains are particularly good for oribi antelope. At the end of October, thousands of wildebeest start amassing in the plains to drop their calves. This then becomes the season of plenty for the predators of Liuwa – its numerous hyena clans, its wild dog packs, and Lady Liuwa's special lion pride – this year with little cubs.

Each day to spent exploring this magnificent wilderness!

Bush camping at Lyangu Campsite from November 18 – 21
Bush camping at Katoyani Campsite from November 21 – 23
November 23 (Day 8) : Departure

The driver will bring you back to Kalabo from where you will fly back to Lusaka in your charter flight. (Breakfast only)
---
More
Vehicle Notes

Vehicle

We use Landrover Tdi with extended chassis to accommodate 10 bucket seats ( 8 window seats and 2 seats in the middle in the front row and back row respectively). The vehicle is specially adapted (double shocks and double coil springs etc.) to guarantee a comfortable drive on the bumpy tracks in the African wilderness. There is space for hand luggage (cameras etc.) in front of the first row of seats (above the driver and co-driver) and between the second and third row of seats. There is also space to stow luggage beneath the seats.

The side doors can be folded down to allow easy access into the vehicle. The vehicle is open on all sides, but can be closed completely with windows for long distance journeys.

The Landrover has a double battery system (car battery and replacement battery for the fridge) with a port (cigarette charging plug) for 12 volt devices. In addition, an inverter is fitted to ensure charging for devices with 220 volt (European plugs). The Landrover is equipped with a fixed roof (two of our Landrovers are fitted with detachable roofs).
Camping

Big tents, ca. 3,5m x 3m and 2m high. Linen is fully included with 2 high density mattresses for each cot. Pillows and blankets are also included in the price. We will be carrying our own mobile shower for hot bucket showers, though ablutions will be the one at the community campsite. Solar lighting in tents.
---
Gallery
---
Liuwa Plain Safari Map
Chunga Camp, Chunga, Central, Zambia
Liuwa Plains National Park, Kalabo, Western, Zambia
---
Best Time to Visit
This safari begins and ends in Lusaka, Zambia. You will head out on safari on Day 1 itself. On Day 8, you will take a chartered flight from Kalabo back to Lusaka.
---
---
Enquire Now
We are travelling at the moment!
Dear Friends,

We are travelling across remote parts of Africa without access to stable internet. Thus, we are not accepting new enquiries at the moment.
We will be happy to assist you with your travels to Africa when we return (June 1, 2023).
Hope you have a great summer!
Warm regards,
Team Chalo Africa
---
Other Recommended Safari Tours
View all safari tours in Zambia »