The Motse at Tswalu Kalahari, South Africa
A Luxury Lodge or Hotel in South Africa

Location
Tswalu Kalahari Reserve, South Africa
Starting from
US$ 1,931
Per Person Per Night
---
Camp Details
The Motse includes nine individual suites, each comprising a spacious bedroom with an open fireplace, en-suite bathroom, indoor and outdoor shower and private sun deck. Three additional family suites with an extra bedroom and en-suite are also available. The main house features elevated decks, elegant lounges, an infinity pool, a secluded spa, mezzanine library, satellite TV and an endless view over the savannahs.
The Motse accommodates no more than 24 guests at any one time to make for a truly intimate Kalahari experience. The main house is a spectacular space in which to meet, with its elevated decks and elegant lounges.
Designed for families
Three suites have been designed especially for families. Each offers two separate bedroom suites with their own en-suite bathrooms. An expansive central living room leads to a shady, private terrace. These suites are each over 170 square metres in size and create the perfect environment for any family group.
Endless savannah views
An infinity pool offers an endless view over the savannahs, and a secluded spa is designed to complete your total relaxation. The mezzanine library is equipped with satellite TV (the Motse also has full broadband Wi-Fi access throughout) and its museum cases display rare artefacts from the area.
---
Our Thoughts on Tswalu Motse
Where wild dogs tree leopards, lion cubs play with pangolins and aardvarks rule the night…"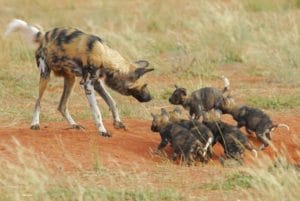 Sangeeta's Trip Report of Tswalu Kalahari: April/May can be a magical time in the Kalahari. This year, unseasonal rains have carpeted the apricot-colored desert sands of Tswalu Kalahari with wide swathes of wild yellow sunflowers and waving plumes of silvery grasses on which springboks pronk and bustards preen.
Read the full report here: https://www.chaloafrica.com/diary/tswalu-kalahari-trip-report/
---
---
Tswalu Motse Rates, Activities & Amenities
Rates
| Year | Season | Type | Rates |
| --- | --- | --- | --- |
| 2022 | 1 January - 31 December | The Motse Suite | ZAR 30500 |
Rates are Per Person Per Night unless otherwise specified.
Inclusions
Rates are per person per night (based on 2 persons sharing) for The Motse Suite.
The Motse Family Suites allows for up to 2 adults and 2 children 0‐17 years sharing.
Rates include:
Luxury full board accommodation
Private guide, vehicle, and tracker per booking – minimum 3 night stay
Walking safaris, led by our experienced field guides and trackers
Horse‐back rides
All beverages and full selection from our award winning wine‐list
In‐suite tea & coffee facilities
In‐suite honour bar and gourmet pantry
Laundry and valet services
Wireless internet access
Children's Junior Ranger programme, and baby‐sitting
National telephone calls
Rates exclude:
Transfers to / from Tswalu
Gift shop purchases
Spa treatments
International telephone calls
Tswalu Foundation donations
Gratuities
Child Policy
Children of all ages are welcome at Tswalu Motse. Please contact us for rates.
Activities
Amenities
---
Map
Tswalu Kalahari Reserve, Benede, Northern Cape, South Africa
---
Gallery
---
Video
Video
---
Enquire Now
We are travelling at the moment!
Dear Friends,

We are travelling across remote parts of Africa without access to stable internet. Thus, we are not accepting new enquiries at the moment.
We will be happy to assist you with your travels to Africa when we return (June 1, 2023).
Hope you have a great summer!
Warm regards,
Team Chalo Africa
---
Recommended Camps Nearby