Let's Sail Up the Congo River with Chalo Africa in Dec 2024 – Jan 2025
A Scheduled Trip to Republic of Congo

Highlights
● Wending along the mighty Congo River in a comfortable river boat;
● Meeting Queen Ngalifourou of the Téké Kingdom in her capacity as the spiritual guardian of the Batéké people;
● Visiting colonial landmarks from the time of the Savorgnan de Brazza and Stanley expeditions;
● Botanical explorations among the more than 1000 species of plants along the river;
● Meeting the Ba'aka or forest people who are one of the last remaining groups of hunters and gatherers on our planet;
● Searching for the Bouvier's Red Colobus, until very recently thought to be extinct!
● Looking for lowland gorillas, bongo and forest elephants at Dzanga-Sangha;
● Gorilla tracking in Nouabalé-Ndoki NP & watching forest elephants, buffalos and birds from Mbeli Baï;
● Exploring the vast unknown at Lobeké NP in Cameroon;
● Visiting wild bonobos at Mbou Mon Tour in DRC;
● Enjoying an evening of jazz and rumba with the Congo dandies themselves!
● Taking this river voyage to its natural conclusion with a few nights at Loango NP in Gabon (optional extension).
Whoa!
---
Scheduled group tour from
December 22, 2024 - January 5, 2025
Starting from
EUR 9,245
per person sharing
Duration
17 days / 16 nights
Transport
Boat Safari, Cruise Ship
---
About this Safari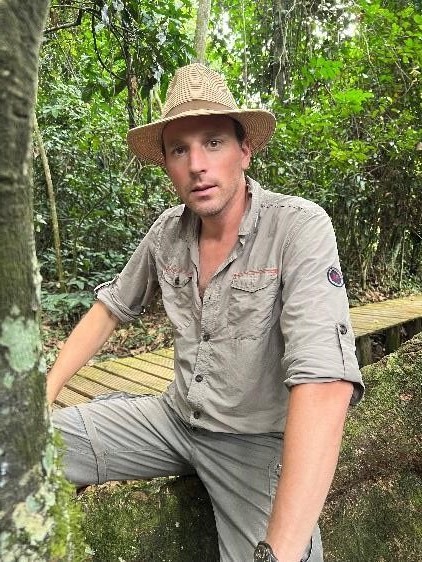 Our Host with the Amazing Résumé – Nicolas Ducret:
Entrepreneur, Rider and Travel Writer
Graduated in geopolitics from the Ecole Normale and the French Institute of Geopolitics.
Graduated from the Dijon Business School.
Deputy General manager of the France Russia Chamber of Commerce 2011-2022
Cruising guide on a schooner in Novaya Zemlya (Russian Arctic)
Director French Tech Russia 2005-2022
Administrative and Financial Director, Médecins du Monde Darfur, 2010
Expeditions:
~ Crossing the Caucasus on horseback, 2018
~ Crossing Siberia in a sidecar, 2013
~ Crossing the Atlantic by catamaran, 2009
~ Crossing Central Asia on horseback from Kazakhstan to Afghanistan in 2007
~ Around the world by bike in 2012
Publications:
~ En Cavale, under the direction of Sylvain Tesson, Editions du Rocher, 2011
~ Cavalier des steppes/ Horseman of the steppes, Transboreal, 2011, 2016
~ En roue libre sur les sentiers du monde/ Freewheeling on the paths of the world, Edition de la Sphère, 2005
Wow! Chapeau!
---
---
Day By Day Itinerary
DAY 1, DECEMBER 22, 2024: ARRIVE IN BRAZZAVILLE, REPUBLIC OF CONGO (CONGO BRAZZA)

Today we will assemble in Brazzaville, where you will be met and transferred to the riverboat for the …….

Contact us for full itinerary
DAY 2, DECEMBER 23, 2024: START OF OUR MIGHTY CONGO RIVER CRUISE

There will be a briefing at breakfast, followed by a city tour. We will visit the Poto Poto Art School, Museum of Congo, the Cathedral and other sights. We will set sail after……

Contact us for full itinerary
DAY 3, DECEMBER 24, 2024: MEETING THE QUEEN OF THE TEKE KINGDOM

In the morning, we will reach the village of Ngabe, one of the ancient capitals of the Téké Kingdom, and visit the current Queen Ngalifourou. In her capacity as guardian of the……

Contact us for full itinerary

Queen Of Teke Kingdom 1

Queen Of Teke Kingdom
DAY 4, DECEMBER 25, 2024 : TSHUMBIRI VILLAGE – CHRISTMAS WITH BONOBOS

Today is our Bonobo Bonanza Day! We will head off into the forest by car, and then start
tracking the bonobos on foot, hoping to ……

Contact us for full itinerary
DAY 5, DECEMBER 26, 2024: SAILING UP THE CONGO

After a restful night on board, we will have a relaxed day sailing to the rhythm of the river. The Congo river widens considerably at this…..

Contact us for full itinerary

Congo River 1
DAY 6, DECEMBER 27, 2024: SAILING UP THE CONGO

Today, after a nice breakfast, we will hop onto motorized boats and canoes and explore little tributaries of the…….

Contact us for full itinerary

Congo River
DAY 7, DECEMBER 28, 2024: PIKOUNDA

We will pass the village of Pikounda en route to a pygmy village, deep in the forest. The
pygmies are one of the two peoples that……

Contact us for full itinerary
DAY 8, DECEMBER 29, 2024: NTOKOU-PIKOUNDA PARK

Today, we will try to look for Bouvier's Red Colobus monkey, which until quite recently, had been thought to have gone extinct! In the morning, we will…..

Contact us for full itinerary
DAY 9, DECEMBER 30, 2024: POKOLA

In Pokola, we will learn about the sustainable management of forests. Then we will head further up the Sangha river, navigating cautiously between the…..

Contact us for full itinerary
DAYS 10-11-12-13-14, DECEMBER 31, 2024-JANUARY 1-2-3-4, 2025: IMMERSION IN THE TRI-NATIONAL SANGHA

In the north-western section of the Congo Basin, at the meeting point of Cameroon, CAR and ROC, lies an enormous tract of land, made up of…..

Contact us for full itinerary
DAYS 14-15, JANUARY 5-6, 2025: SAILING DOWN RIVER

On January 6, we will disembark early in the morning and drive through the jungle for 5 hours before we…..

Contact us for full itinerary
DAY 16, JANUARY 7, 2025: BRAZZAVILLE- HOME

You will be dropped off to the airport in time for your international flights…..

Contact us for full itinerary

Brazzaville 1

Brazzaville
---
More
Details of Rates

INCLUDED:
• All excursions
• Guidance and expertise of expedition staff
• Gorilla permits and park fees (these costs are subject to change if permit + park fees change)
• Charter flight Ouesso-Brazzaville in a 19-pax private jet (2 rotations needed)
• Accommodations on board
• All meals and local drinks (beer, wine and soft drinks with meals)
• Hotel night in Brazzaville + dinner & dance evening with the Congo Dandies

NOT INCLUDED:
• International flights
• Bar consumption outside of mealtimes is extra and payable directly
• Additional hotel nights
• Private transfers
• Comprehensive travel insurance
• Visa and visa invitation letter fees
• Items of a personal nature (such as internet access and laundry)
• Massage
• Gratuities
Gabon Extension

For those doing the Gabon extension at Loango NP, We have a separate itinerary for you!
---
Gallery
---
Let's Sail Up the Congo River with Chalo Africa Map
Congo River, Republic of the Congo
---
Best Time to Visit
---
Enquire Now
---
Other Recommended Safari Tours