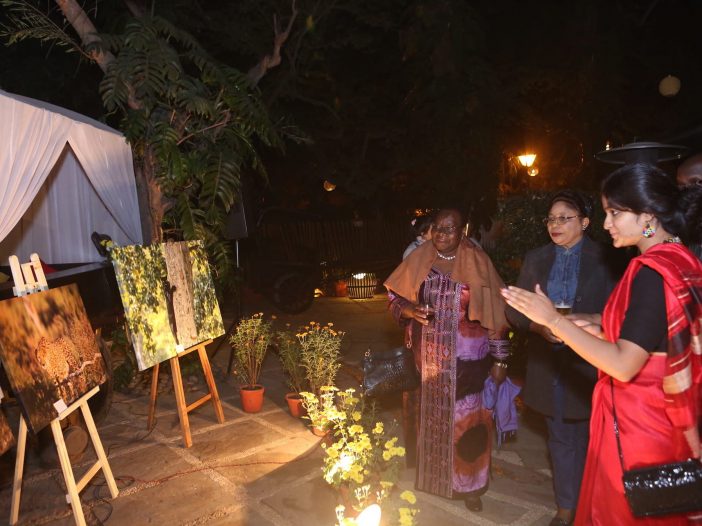 100% of proceeds from the auction to be donated to Wildlife S.O.S. in India & the Gonarezhou Conservation Trust in Zimbabwe.
New Delhi, India – December 11, 2016
Over 100 people attended "Under a Baobab Tree", a cocktail and wildlife photography auction, held in support of two non-profits focussing on wildlife and wilderness conservation in India and Africa. The event was hosted by Chalo Africa, a niche safari & adventure planning company headquartered in New Delhi, on a winter's evening at Lodi Restaurant in the heart of Lutyens' Delhi. Aside from the auction, the occasion was a celebration of the strengthening ties between India and the continent of Africa. Dignitaries from several African missions as well as members of the Indian Ministry of External Affairs were in attendance.
The highlight of the evening was the silent auction of magnificent canvasses showcasing the impressive wildlife and landscapes of India and Africa, donated by world-renowned photographers from India, Australia and the United States. The proceeds from this auction were forwarded to two non-profits: Wildlife S.O.S. in India and the Gonarezhou Conservation Trust in Zimbabwe. Wildlife SOS was represented at the event by one of its co-founders, Kartick Satyanarayan. Four photographers, Dr. Latika Nath, Hari Santharam, Beena Balasubramaniam, and Gaurav Ramnarayanan, who donated their photographs, were also in attendance.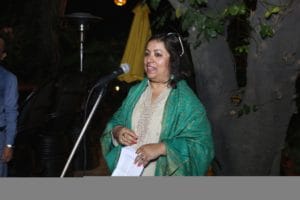 "Africa is the original home of humanity and the cradle of several thousand plant and animal species," said Sangeeta Sahaya Prasad, co-founder, Chalo Africa, speaking at the event. "The people from the various countries of Africa speak almost 2000 languages. The diversity of the continent's culture, politics, history and geography is truly staggering."
Chalo Africa, founded in 2012, is one of the first Africa destination specialists in India and aims to reveal the magnificence of Africa's wildlife, wilderness, culture and landscapes to an Indian audience.
Tourism from India to Africa has been increasing steadily, with countries like South Africa, Kenya & Tanzania popular with leisure visitors. In 2015, South African Tourism Board recognised that India had become one of its key tourism generating nations. In 2014, India was Kenya's 5th largest source market for inbound tourism.
"Discerning travellers with an eye for luxury as well as wildlife aficionados travel to Africa repeatedly," said Smita Srivastava, co-founder of Chalo Africa. "Countries like Botswana, Namibia, Zambia, Zimbabwe, Uganda, and Rwanda are growing in popularity with Indian travellers. Younger Indian travellers are very adventurous and uninhibited, travelling to offbeat destinations like the Virunga mountains in Democratic Republic of Congo to see the mountain gorillas."
Her Excellency, High Commissioner Florence Weche of Kenya, and diplomats from the missions of Botswana, Democratic Republic of Congo, Kenya, Rwanda, South Africa, Uganda, and Zimbabwe all supported the event in their attendance.
---
About Wildlife SOS
Wildlife SOS was established in 1995 by a small group of individuals inspired to start a movement and make lasting change to protect and conserve India's natural heritage, forest and wildlife wealth. The group has successfully and almost single-handedly stopped the practice of dancing bears on Indian streets.
Learn more at http://wildlifesos.org/
---
About Gonarezhou Conservation Trust
The Gonarezhou Conservation Trust is committed to saving Baobab trees in Gonarezhou, Zimbabwe's second largest national park, through natural conservation methods. The trust is trying to preserve Baobab trees that are thousands of years old from being destroyed by elephant over-grazing.
Learn more at https://www.chaloafrica.com/gonarezhou
---
Images from the evening…