Rwanda Health & Vaccinations
Malaria and Yellow Fever
---
Rwanda Health Information
Although the Rwandan healthcare system is rapidly improving, standards of medical education and practice often do not meet the standards of developed countries. Medical facilities are limited, though there are some hospitals supported by Western organizations throughout the country, with the best ones usually found in Kigali.
Make sure you have the latest safety tips from the establishment where you will be staying, and take common sense precautions as you would when travelling elsewhere. Avoid drinking tap water that has not been boiled or disinfected, eating produce that has not been peeled or cooked, and eating food from street vendors. Drink lots of water to avoid heat exhaustion or heat stroke, and make sure to always use insect repellent to avoid contracting insect-borne diseases.
As always, when travelling to any destination, please be sure you are up to date with all routine vaccinations. Commonly recommended vaccinations for travel to Africa include the following: Tetanus, Diphtheria, Polio, Typhoid, Hepatitis A, Hepatitis B, Yellow Fever, Rabies, and Meningitis. Visit your doctor several weeks before your trip to ensure that you have all the vaccines and medications you need.
---
Malaria Recommendations for Rwanda
There is a moderate risk of malaria throughout Rwanda. Therefore, it is recommended you consult your doctor to see whether you should take malaria prophylaxis before entering Rwanda. The course should start 24 hours before entering South Africa and should be taken for 6 weeks after leaving the country.
Other prevention methods such as using mosquito repellent and sleeping under a mosquito net are also recommended.
---
Yellow Fever Vaccination Requirements for Rwanda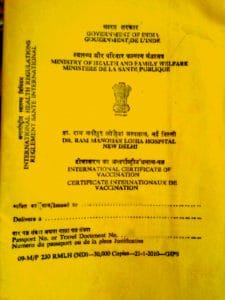 Rwanda requires a valid yellow fever certificate from all foreign visitors and citizens over 1 year of age travelling from an infected area or having been in transit through infected areas (>12 hours). This rule applies to travellers from the following countries: Yellow Fever endemic countries1: Angola, Argentina, Benin, Bolivia, Brazil, Burkina Faso, Burundi, Cameroon, Central African Republic, Chad, Colombia, Congo, Côte d'Ivoire, Democratic Republic of the Congo, Ecuador, Equatorial Guinea, Ethiopia, French Guyana, Gabon, Gambia, Ghana, Guinea, Guinea Bissau, Kenya, Liberia, Mali, Mauritania, Niger, Nigeria, Panama, Paraguay, Peru, Senegal, Sierra Leone, South Sudan, Sudan, Suriname, Togo, Trinidad and Tobago, Uganda, and Venezuela.
There is very low risk of contracting yellow fever in Rwanda. The World Health Organization, which once listed Rwanda as a yellow fever endemic country, now considers Rwanda to have low potential for exposure to the virus and has removed Rwanda from the watch list. If you are travelling from the U.S. or U.K., you do not need the yellow fever vaccination certificate, but citizens of other countries should check their respective re-entry requirements.