Karisia Walking Safaris – Pinnacles, Rivers & Plains
A Scheduled Trip to Kenya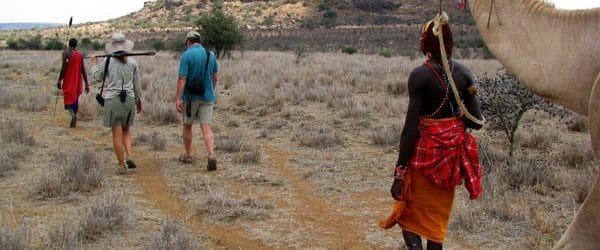 Highlights
Karisia Walking Safaris, pioneers of Kenya walking safaris, take you on an adventurous walking safari near Laikipia. In this energetic walk, you will traverse across dramatic landscapes, and encounter local wildlife, birds and culture of the north. This is a set departure group itinerary with departure dates in 2016 and 2017.
---
Scheduled group tour from
October 9, 2016 - October 15, 2016
Price Available
On Request
Duration
7 days / 6 nights
Accommodation
Air BnC – Air Bed and Camel Walking Safari
---
About this Safari
This walk organised by Karisia Walking Safaris is good for: Dramatic landscapes, Wildlife, Birds and Culture
Level of Walk: Moderate to Energetic
Dates:
09-15 October 2016
03-09 December 2016
4 – 10 February 2017
18 – 23 November 2017
Price of this Kenya walking safari: US$ 2,800 per person
Minimum 3 people and maximum 8 people on this safari with Karisia Walking Safaris
Less than 3 people – US$ 500 supplement per person
---
---
Day By Day Itinerary
Day 1: Nanyuki to Tale with Karisia Walking Safaris

From Nanyuki you will be met by a Karisia Walking Safaris Guide and a driver and driven 2.5 hours to our first camp at Tale. The first camp will be on a sweeping sand river below a shark fin-shaped hill called Tale . The granite massif rises abruptly out of arid plains and it is a landmark for hundreds of kilometres. After a refreshing lunch and a relaxing afternoon under huge Tortillis trees we will walk up Tale and at the top toast the the Mathews Range and the Karisia Hills to our North. You and your guide will scan below for Gerenuk, Elephants, Impala and Ostrich. Back at camp hot showers and cool drinks will be waiting for you. Dinner under the stars with the sound of the Nightjars serenade.
Day 2: Nantodo

An early wake up with hot water in basins, steaming tea / coffee and a light fruit snack. Then you are off towards the Ewaso Nyiro River in the East. On the way look out for Gerenuk, Grant's Gazelle and the iconic Grevy Zebra. You'll climb Nantodo rock and enjoy more sweeping views and the river far below while we enjoy a proper picnic breakfast You will walk down to the camp in time for lunch and a cold beer and a splash in the river. After an afternoon of relaxing by the river an evening walk up the sand river will be planned, hunting for the noisy, but shy Stone Partridges, Golden Breasted Starlings and if you are lucky Greater Kudu.
Day 3: Ngai Susui

Set off with Karisia Walking Safaris as the sun is rising, winding your way up the sand river hoping to see Klipspingers, Verreaux Eagle Owls, Desert Warthogs, or Elephants as they head for a shady rest. You will slowly wind your way up to the campsite on a ridge next to the pinnacle. It is fun walking with the camels and watching them patiently head up the slopes with our camp on

their backs. Once it cools off you will walk up to the pinnacle, Ngai Suisui which is sacred to the Samburu and means 'Winds of God'. Ngaio suisui has a dramatic 360 degree view of the area and is also the nesting site for a pair of Verreaux Eagles.   Sundowners here always taste good!
Day 4: Nagaratat

This morning is a dramatic walk down to the river and a serene spot called Namasaa. The landscape is spectacular and you will walk along the rivers edge under enormous Neutonia Trees, watching out for hippos in the deep pools before climbing out of the valley up a rocky river course. Here the fig trees cling to rocks and Klipspringers perch high on the steep hillsides above. We break out of the valley and on to some rolling country where you will look for elephant and the peculiar Pancake Tortoises that live in cracks in the rocks here. From camp you will hopefully see the local herds bringing their livestock to drink. You will go on an evening stroll looking for the colourful birds and as always, enjoying a nice sundowner on a tall rock.
Day 5: Leshashi - Nalarai

You will walk on upstream looking out for Greater Kudu, Waterbuck, Elephant and the incredible birds and scenery along the way and arrive at your camp by lunchtime. We can cool off in the pools and in the evening you will walk slowly along the river looking for an elusive local Leopard or watch the Baboons as they come to roost on the cliffs in the evening
Day 6: Tumaren Camp. Last night on a Kenya Walking Safari

We will walk out of the valley early and drive to Tumaren for a bush brunch and a night of luxury in the huge tents with sweeping views across to the Laikipia Plateau, Mt Kenya and the Aberdares. The abundant plains game here will compliment the more reclusive denizens of the lower Ewaso.

In the afternoon we will head out on a drive or a walk and a night game drive could easily turn up some good predators like a Leopard or else an interesting nocturnal animal, like a Porcupine, an Aardvark or a Zorilla
Day 8: Back to Nanyuki. Say goodbye to Karisia Walking Safaris

Game drive along and over the Laikipia Plateau to Nanyuki in time for any connections for onward travel. You will say goodbye to your guide and the team from Karisia Walking Safaris. For those that would like to extend a second night at Tumaren, this can be easily arranged.
---
More
Air BnC Accommodation

On such African walking safaris, you will notice that the accommodation is Air BnC. No this is not a typo, but in fact stands for Air Bed and Camel Walking Safari.

To read reviews of Karisia Walking Safaris (pioneers in Kenya walking safaris), please visit TripAdvisor.

To see other options of walking safaris Africa, please visit our Walking Safari Africa page. (Here we recommend options of walking safari zimbabwe, walking safaris in Zambia, walking safari Tanzania).
---
Gallery
---
Karisia Walking Safaris Map
---
Best Time to Visit
This Kenya walking safari begins and ends in Nanyuki, which is a short flight from Nairobi. The team from Karisia Walking Safaris will guide you in this portion of the trip. We recommend extending this trip with a game drive safari in any of Kenya's national parks.
---
Enquire Now
We are travelling at the moment!
Dear Friends,

We are travelling across remote parts of Africa without access to stable internet. Thus, we are not accepting new enquiries at the moment.
We will be happy to assist you with your travels to Africa when we return (June 1, 2023).
Hope you have a great summer!
Warm regards,
Team Chalo Africa
---
Other Recommended Safari Tours
View all safari tours in Kenya »