Tanzania Travel Guide
---
History
Tanzania: A History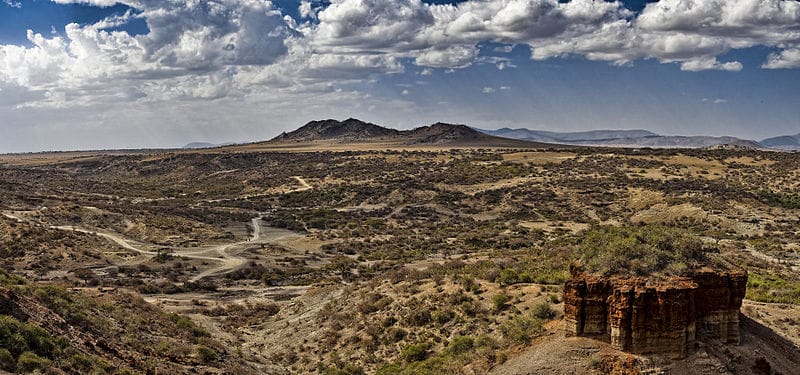 Tanzania in its current geopolitical form is a recent phenomenon, but the history of the region stretches back quite literally millions of years. Some of the oldest fossils and evidence for early man have been found in this East African land, the Cradle of Mankind. In more recent history – that is to say, in the last 10,000 years! – the region was populated by various peoples, chief among them Bantu-speaking people, whose culture and language form the core of the Swahili civilization and the Kiswahili language.
Swahili civilization flourished through the 15th century, as strong trading ties with Arabia and Persia allowed it to extend its power throughout the region. In 1498, Vasco de Gama became the first European to set foot on the East African coast, ushering in a new age of European colonization: first Portuguese, then German, and then British. It was in the western town of Ujiji that Henry Morton Stanley greeted the Scottish explorer with those immortal words, "Dr. Livingstone, I presume?"
The British colony of Tanganyika became independent in 1961, and in 1964 merged with the newly independent Zanzibar archipelago – hence the portmanteau "Tanzania" – with Julius Nyerere as its president. Today, the United Republic of Tanzania exhibits a fascinating blend of African, Arabian, and European cultures, nestled in a magnificent landscape. A Tanzania safari is a must to experience the true wilderness of Africa
A Personal Experience

Sangeeta's Note: It has been my good fortune to visit some of the more famous and less famous Tanzania safari parks over the past few years. My first visit was to the remote parks of Mahale, Katavi, and Ruaha. I figured that because I had already been to the Masai Mara, and because the Mara is an extension of the Serengeti eco-system, I could skip the Serengeti.
Very soon I realized that it doesn't work that way. There are no 'substitutable' safari destinations. Indeed, no two safaris, even if they are to the same destination in the same season, will produce the same sightings or the same emotions in you, the safari-goer. To remedy the error of my ways, I spent a milestone birthday in the Serengeti in 2011. The gods were kind.
On the day of my birthday, I woke up to a cacophony of gnuing and grunting and hoof beats. Hundreds upon hundreds of thousands of wildebeest had surrounded our simple mobile camp in a secluded northern section of the park. This mega herd of wildebeests, speckling the hills as far as the eyes could see, was en route to its hazardous crossing of the Mara River and the sweet grasses that beckoned from the nearby Masai Mara. I do not have adequate words to describe my feelings at the time, but I can certainly tell you this: Tanzania's iconic parks are a league unto themselves. You will find yourself coming back to them over and over again.
Geography
Geography of Tanzania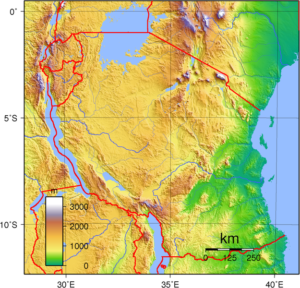 The diverse Tanzanian landscape is characterized by three basic regions: the inland plateau, the highlands (to the north and south), and the islands and coastal plains.
The Great Rift Valley cuts from north to south through the central portion of the country. The capital city of Dodoma lies on the plateau, but the biggest city, Dar es Salaam, is on the eastern coast, only a hop away from the island of Zanzibar.
Tanzania is also home to a number of record-holding formations: Mt. Kilimanjaro, Africa's highest peak; the Ngorongoro Crater, the world's largest inactive, unbroken, and unfilled caldera; Lake Victoria, Africa's largest lake; and Lake Tanganyika, Africa's deepest lake. This diversity makes a Tanzania safari tour a surprisingly esoteric experience.
Parks
Wildlife of Tanzania
Tanzania's many safari parks are as lively as they are beautiful, and the wildlife enthusiast will certainly not be disappointed with the sightings. The Big Five – lions, elephants, leopards, rhinos, and Cape buffalo – can all be found, depending on your safari.
But the most famous and most magical scene associated with Tanzanian wildlife is no doubt the Great Migration, one of the natural wonders of the world, in which nearly two million wildebeest travel in megaherds (accompanied by staggering numbers of gazelles and zebras) across the Serengeti Ecosystem in search of food. The Migration is constantly in progress, but the classic sighting of megaherds of wildebeest crossing the Mara River generally occurs between July and November, while the calving (in which several hundred thousand calves are all born within a few weeks of one another) happens between February and March.
---
Tanzania is home to several stunning national parks, run by the Tanzania National Parks Authority (TANAPA), including Serengeti National Park, Tarangire National Park, Lake Manyara NP, Gombe NP, Katavi NP, Mahale NP, Ruaha NP, and many more. There are also several game reserves including Selous Game Reserve and Lake Eyasi.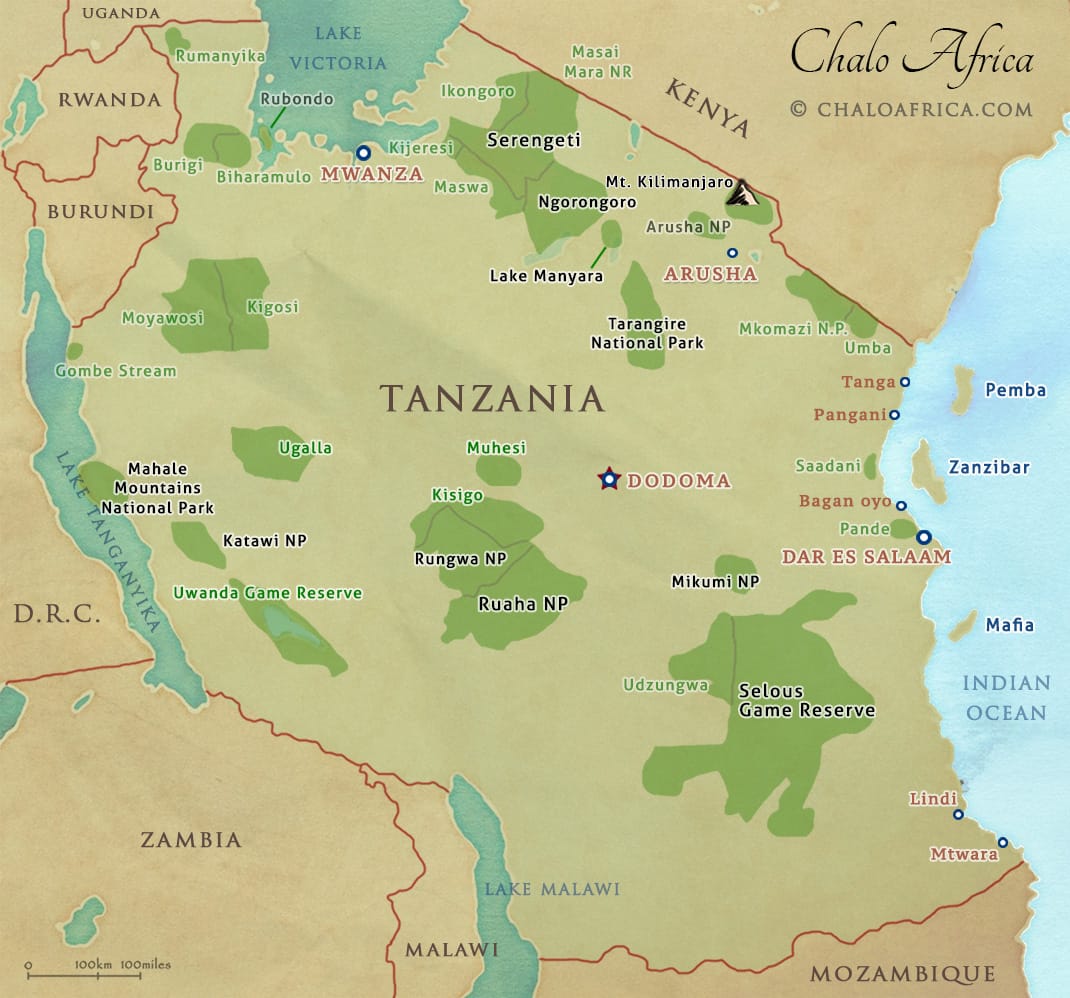 In addition to these, there are several conservation areas, which are protected areas because of their natural, cultural and ecological values. One of the most well-known conservation areas is the Ngorongoro Conservation Area, which covers 8,298 square kilometres.
National Parks of Tanzania
Tanzania is home to stunning national parks, run by Tanzania National Parks Authority (TANAPA), including:
Arusha National Park
Gombe Stream National Park
Jozani Chwaka Bay National Park
Katavi National Park
Kilimanjaro National Park
Kitulo National Park
Lake Manyara National Park
Mahale Mountains National Park
Mikumi National Park
Mount Meru National Park
Mkomazi National Park
Ruaha National Park
Rubondo Island National Park
Saadani National Park
Saadani Island National Park
Saanane Island National Park
Serengeti National Park
Tarangire National Park
Udzungwa Mountains National Park
Game Reserves in Tanzania
Game Reserves are slightly different from national parks, as activities like walks and night game drives are permitted. Unfortunately, activities like hunting are also permitted in concessions in adjacent areas.
Selous Game Reserve
Lake Eyasi
Mpanga Kipengere Game Reserve
Njombe Region
Conservation Areas
Conservation areas are protected because of their natural, cultural and ecological values. One of the most well-known conservation areas is the Ngorongoro Conservation Area, covering 8,298 square kilometres.
Marine Parks & Reserves of Tanzania
Mafia Island Marine Park
Mnazi Bay-Ruvumba Estuary Marine Park
Cities
Top Cities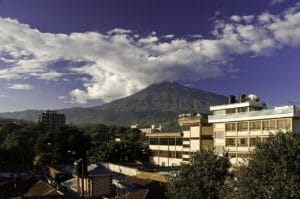 Arusha: The "Geneva of Africa," Arusha is not only Tanzania's third-largest city and a center for diplomatic discussions, it is ideally positioned near several famous national parks and is often the base for Northern Circuit safaris.
Dar es Salaam: Tanzania's largest city – a prosperous, bustling, colorful port just across the channel from Zanzibar – showcases Tanzanian culture at every corner, with museums, restaurants, markets, and more.
Dodoma: A quiet city located on the edge of the southern highlands, Dodoma is the official seat of government in Tanzania, surrounded by peaceful, beautiful landscapes.
Kigoma: This port on Lake Tanganyika was once the final stop for the Central Line railway, and today is the economic center of western Tanzania.
Mwanza: Surrounded by tea, coffee, and cotton plantations and conveniently close to a number of national parks, Mwanza is a key port on Lake Victoria and Tanzania's second-largest city.
Tanga: Like Dar es Salaam, Tanga is key port city on the Indian Ocean, but its atmosphere is more relaxed, ideal for a pleasant beachside city stroll.
Things to Do
Things to Do
The Great Migration: Mara River crossings, calving.
Game viewing: walking safaris, night game drives, game drives, off roading, fly-camping, open vehicle game drives, birding, chimpanzee trekking, forest walks, hiking, crater hikes, mountain climbing, etc.
Diving, snorkelling, reef walks, dhow trips, boating, fishing, hot springs, swimming, kayaking, canoeing.
Cultural visits, balloon rides, village visits, spice tours, massage, spa, bush picnics, etc.
Self-Drives
Popular Tanzania Safari Self-Drive Routes
Most travellers do not opt to self-drive in Tanzania, preferring instead to work with a travel agent to plan a route and arrange transportation. For more information on how you can plan your safari, enquire now.