Uganda Health & Vaccinations
Malaria & Yellow Fever
---
Uganda Health Information
Major cities in Uganda have good-quality health care services available. However, in remote locations, access may be limited.
As always, when travelling to any destination, please be sure you are up to date with all routine vaccinations. Commonly recommended vaccinations for travel to Africa include the following: Tetanus, Diphtheria, Polio, Typhoid, Hepatitis A, Hepatitis B, Yellow Fever, Rabies, and Meningitis. Visit your doctor several weeks before your trip to ensure that you have all the vaccines and medications you need.
---
Malaria Recommendations for Uganda
Uganda poses a malaria risk, and thus we advise prospective travelers to consult with their physicians about medicines to take before, during, and after their trip.
---
Yellow Fever Vaccination Requirements for Uganda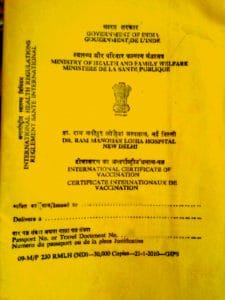 Uganda requires a valid yellow fever vaccination certificate from all foreign visitors and citizens over 1 year of age travelling from an infected area or having been in transit through infected areas (>12 hours). This rule applies to travellers from the following countries: Angola, Argentina, Benin, Bolivia, Brazil, Burkina Faso, Burundi, Cameroon, Central African Republic, Colombia, Costa Rica, Congo, Cote d'Ivoire, Democratic Republic of Congo, Ecuador, El Salvador, Equatorial Guinea, Ethiopia, French Guyana, Gabon, Gambia, Ghana, Guatemala, Guinea, Guinea Bissau, Kenya, Liberia, Mali, Mauritania, Honduras, Nicaragua, Nigeria, Panama, Paraguay, Peru, Rwanda, Sao Tome and Principe, Senegal, Sierra Leone, South Sudan, Sudan, Suriname, Togo, Trinidad, and Venezuela.
---
Yellow Fever Vaccination Requirements for US Citizens
Health recommendation: Yellow fever is a risk in Uganda, so CDC recommends this vaccine for all travelers who are 9 months of age or older.
Country entry requirement: Required for arriving travelers from all countries. Also, proof of yellow fever vaccination required of all travelers leaving Uganda.
More details at:
---
Yellow Fever Vaccination Requirements for Indian Citizens
All visitors travelling from India to Uganda are required to be vaccinated against yellow fever with an international certificate proving so. While there is no health check on departure from India, you will be checked upon your return. Thus, it is mandatory to be in possession of a valid international vaccination certificate of yellow fever before your departure. This certificate must be issued from an approved vaccination center.
The yellow fever vaccination needs to be given at least ten days before arriving in a yellow-fever-endemic area and must be administered at an approved yellow fever vaccination center.
More details at: