Nyiragongo Volcano Summit Shelters, Virunga National Park, Democratic Republic of Congo
A Lodge or Hotel in Democratic Republic of Congo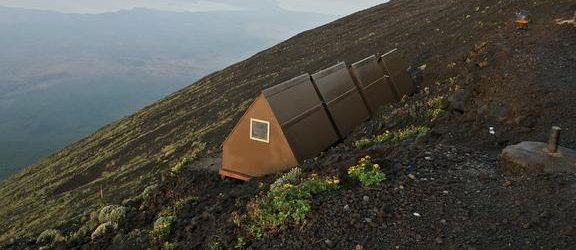 Location
Virunga National Park, Democratic Republic of Congo
Starting from
US$ 300
Per Person Per Night
---
Camp Details
Nyiragongo is a beautiful stratovolcano that features the world's largest lava lake. The volcano's forested lower slopes are home to a variety of animals, including chimpanzees, monkeys, and bushbuck. Nyiragongo's summit rim is largely devoid of vegetation and is frequently dusted with snow. Although predictable and therefore safe for tourists, Nyiragongo is greatly feared during eruptions. Because of the high silica content of its lava, Nyiragongo's lava flows are extremely fluid. During the 2002 eruption, some of Nyiragongo's lava flows were clocked at 100 km/hr (62 mph) and reached all the way to Lake Kivu.
Treks to the summit of Nyiragongo volcano begin at the Kibati patrol post, which is approximately 30 minutes by car from Goma. The patrol post is less than a one hour drive from the Mikeno Lodge in Rumangabo. Park rangers lead all treks and porters (unaffiliated with the park) are available for hire. The time required to reach the summit depends on the average fitness of each group, but typically takes 4 – 6 hours. Altitude sickness can be an issue for some because the climb begins at 1989m (6,525 ft) and ascends to 3470m (11,382ft) in a short time. Proper hydration is the best way to adapt to the change in altitude. People prone to Acute Mountain Sickness (AMS) should speak to their physicians about taking preventative measures before making the climb. It is possible for fitter people to climb up and descend in one day, but most groups choose to overnight in basic accommodation available at the top (included in the permit fee). Trekkers are advised to bring raincoats and cold weather gear. Rain showers are a common occurrence on the climb up during the rainy season and temperatures at the summit can dip below 0°C/32°F.
WHY CHOOSE NYIRAGONGO VOLCANO SUMMIT SHELTERS?
The warm glow of lava and the sight of the lava lake will make you forget your tired legs!
You can peer down into a churning lava lake as well as see and hear hot gases exploding up though a mosaic of molten lava.
Although these shelters aren't plush, they offer a welcome escape from the elements.
---
---
Nyiragongo Volcano Summit Shelters Rates, Activities & Amenities
No rates available online at the moment. Please contact us for further information.
---
Map
Nyiranongo Volcano, Severní Kivu, Democratic Republic of the Congo
---
Gallery
---
Enquire Now
---
Recommended Camps Nearby