Namibia Health & Vaccinations
Malaria and Yellow Fever
---
Namibia Health Information
As with any foreign destination, it is important to check with your doctor(s) well ahead of your departure date regarding vaccinations and other necessary health precautions. Compared to other African countries, Namibia's healthcare system remains among the more advanced. The quality of care will begin to vary as one enters the rural areas.
---
Malaria Recommendations for Namibia
Namibia's capital of Windhoek poses no malaria risk. Cases have been found, however, in the regions of Kavango (East and West), Kunene, Ohangwena, Omusati, Oshana, Oshikoto, Otjozondjupa, and Zambezi. If your travels implicate any of these regions, it is strongly recommended that you consult your healthcare professional about anti-malaria vaccinations.
---
Yellow Fever Vaccination Requirements for Namibia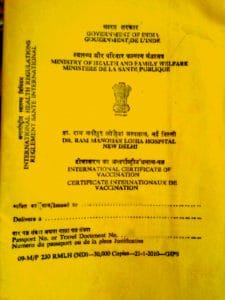 There is no yellow fever risk in Namibia. Therefore, the country requires a yellow fever vaccination certificate from those travelling from the following countries (travel includes transit stays that surpass 12 hours): Angola, Argentina, Benin, Bolivia, Brazil, Burkina Faso, Burundi, Cameroon, Central African Republic, Chad, Colombia, Congo, Cote d'Ivoire, Democratic Republic of Congo, Ecuador, Equatorial Guinea, Ethiopia, French Guyana, Gabon, Gambia, Ghana, Guinea, Guinea Bissau, Kenya, Liberia, Mali, Mauritania, Nigeria, Panama, Paraguay, Peru, Senegal, Sierra Leone, South Sudan, Sudan, Suriname, Togo, Trinidad and Tobago, Uganda, and Venezuela.
---
Yellow Fever Vaccination Requirements for US Citizens
Health recommendation: There is no risk of yellow fever in Namibia. The government of Namibia requires proof of yellow fever vaccination only if you are arriving from a country with risk of yellow fever. This does not include the US.
More details at:
---
Yellow Fever Vaccination Requirements for Indian Citizens
You do not need a yellow fever certificate if you are travelling from India to Namibia and back.
More details at: