DE HOOP CAMINO Luxury Coastal Walking Trail – 5 days/4 nights
A Customizable Trip to South Africa

Highlights
Experience the beauty of the De Hoop Nature Reserve on foot. This is a mix of coastal walks, sea life, fynbos, comfortable accommodation and wonder.
---
Starting from
ZAR 28,100
per person sharing
Duration
5 days / 4 nights
Accommodation
Lodge or Hotel
---
About this Safari
This is a 4 night/ 5 day guided and unguided walking experience in the pristine environment of the De Hoop Nature Reserve. This experience is for those seeking solace in nature … all to be enjoyed at your own pace.
On foot, you will be exploring the reserve's rich marine, plant and wildlife. Staying in comfortable off-grid accommodation and following the spectacular nature walks along the scenic trails and footpaths, secluded beaches, secret coves and rugged fynbos covered coastline.
Your days of blissful walking will take you from the comfort of Lekkerwater Beach Lodge to the luxury of Morukuru Beach Lodge, where you will uncover this unspoilt, untouched reserve, filled with a treasure trove of fauna, flora, fynbos, pristine beaches and abundant sea life.
• Walk at your own pace, in one of the most beautiful nature reserves in the Western Cape.
• This walk offers guided and unguided marine and nature walks allowing you to explore everything from fauna and flora to blow holes and sea creatures.
• Breathe in the salty sea air and truly relax after a day's walking in the comfort and luxury of one of two incredible off-grid lodges.
• On day 3 you'll be hiking one of the most breath-taking sections of the remarkable Whale Trail, which forms part of the walk.
• Walking in the winter months (between July and November) the Southern Right whales arrive, congregating off shore to calved and breed, making this an exceptional whale watching experience.
Starting Price of Safari – ZAR 28,100 per person sharing per night
14 July – 21 September 2023 – ZAR 32,200
22 September – 14 December 2023 – ZAR 36,800
---
---
Day By Day Itinerary
DAY 1 AND 2: GUIDED AND UNGUIDED MARINE AND NATURE WALKS AROUND LEKKERWATER BEACH LODGE

Your first day on this walking trail starts with an optional 6km walk from the parking area, into Lekkerwater Beach Lodge where you will spend your first two glorious nights. You may spot schools of surfing dolphins, countless bird sightings (including the endangered black oystercatcher) while enjoying marine life thriving amongst the gullies and …….

Contact us for full itinerary
DAY 3: FULL DAY COASTAL WALK TO MORUKURU BEACH LODGE

It's time to hit the long trail! You'll spend today embarking on a leisurely self-guided 6.5-8 hour coastal walk along a walking trail from Lekkerwater Beach Lodge to Morukuru Beach Lodge, further west ……..

Contact us for full itinerary
DAY 4 AND 5: GUIDED AND UNGUIDED MARINE AND NATURE WALKS AROUND MORUKURU BEACH LODGE

Spend the day exploring the pristine coastline around Morukuru. Indulging in various activities including guided nature and tidal walks, encountering the rich diversity of ……

On day 5, after a delicious breakfast, you will be transferred by road back to your car at the Lekkerwater carpark. Here we bid you farewell in preparation for your onward journey.

Contact us for full itinerary
---
Tour Accommodation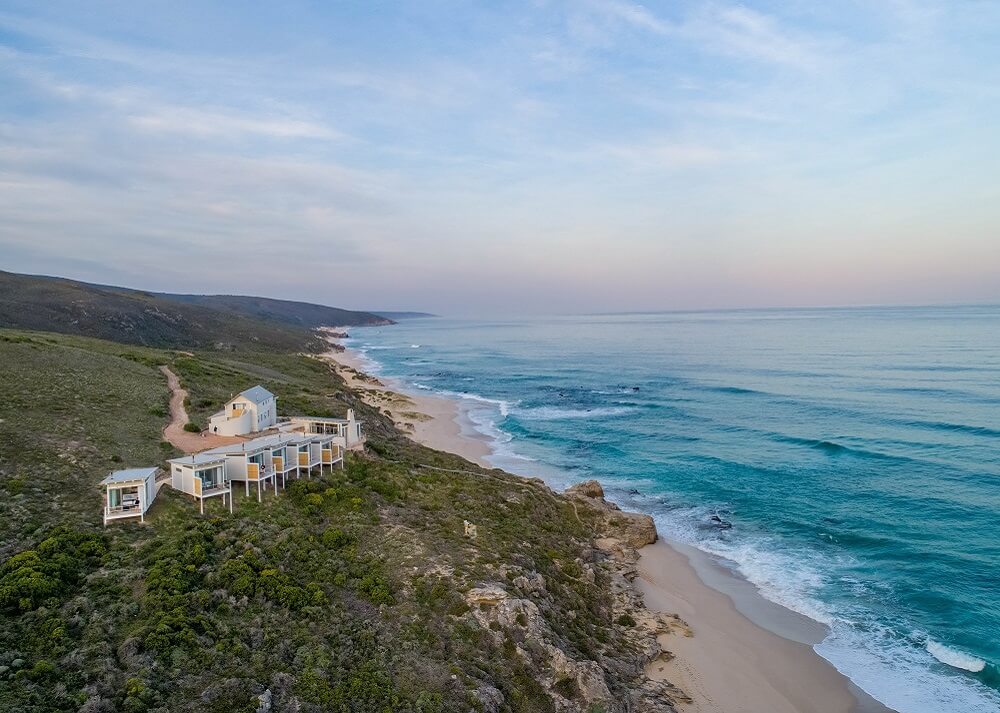 ---
More
Notes

When to go:

Lekkerwater Beach Lodge is truly a year-round destination, its gentle charms shifting with the changing seasons.

During the southern hemisphere's summer (November-March) the days are perfect for coastal adventures. Use the fresh morning air to hike out into the fynbos, then cool off with a swim in the tidal pools during the heat of the day, or enjoy a beach picnic on a private dune.

In autumn (April-May) and spring (September-October) the fynbos comes to life, and sunsets are all about lazy evenings enjoyed with a glass of fine South African wine in hand.

Winter (July and August) is when the Southern Right whales arrive, congregating offshore to calve, mate and generally cavort in the warm seas. The first Southern Right whales usually arrive in May or June but the best months for whale watching are August to October, when the bay in front of the lodge can be home to hundreds of whales at any one time.

While each month offers its own attraction, all Lekkerwater Beach Lodge and Morukuru Beach Lodge activities are offered year-round, weather and tide permitting.
Important Information

Things to know:

• Your luggage will be transported for you between the two lodges.
• A guide is available at an additional cost for the section between Lekkerwater and Morukuru, should you not wish to walk unguided.
• De Hoop Nature Reserve is located little more than three hours' drive from Cape Town.
• The walk between Lekkerwater and Morukuru is around 15km. With stops and explorations, this section will take a good part of the day. The length of the walks at both Lekkerwater and Morukuru will depend on the levels of fitness and enthusiasm which could push the total distance walked over the five days up to 45km-50km.
• This walk needs a minimum of two guests and small groups are highly recommended.
• To get the maximum enjoyment of this experience guests need to be reasonably fit, active and agile.
• Departure days starting at Lekkerwater Beach Lodge: every Monday, Wednesday, or Friday (subject to lodge availability)

What to bring?

• A sense of fun an adventure!
• A small backpack with drinking water and a lunch-pack, sun block, swimming costume, sarong, a wide brimmed hat, binoculars and camera.
• Comfortable closed walking shoes, as well as reef shoes if you have a pair.
• A small first aid kit
Details of Prices

WHAT IS INCLUDED:

Road transfer of you and/or your luggage from Lekkerwater carpark to Lekkerwater Beach Lodge; two nights at Lekkerwater Beach Lodge; two nights at Morukuru Beach Lodge; luggage transfers from Lekkerwater to Morukuru Beach Lodge; road transfer from Morukuru Beach Lodge to Lekkerwater carpark; all meals; all local drinks and in-lodge activities. The walk between the lodges is self-guided. But, at an extra cost, we can include the services of a guide.

WHAT IS EXCLUDED:

Transfers by road (or airplane/helicopter) to and from De Hoop Nature Reserve; park entrance fees (R50 per person per night paid in cash to Cape Nature on arrival at De Hoop Nature Reserve gate); laundry service at Morukuru; fully comprehensive travel insurance; gratuities to lodge staff and guides; and premium wines, spirits and champagnes not on the "house" list. Conservation, Community and Reserve fee (R 500 pp, pn) at Lekkerwater. Conservation & Community fee (R 100 pp, pn) at Morukuru Beach Lodge.
---
Gallery
---
DE HOOP CAMINO Luxury Coastal Walking Trail - 5 days/4 nights Map
Lekkerwater, South Africa
De Hoop Nature Reserve, South Africa
---
Best Time to Visit
The Tour begins and ends in Cape Town, South Africa.
---
Enquire Now
---
Other Recommended Safari Tours