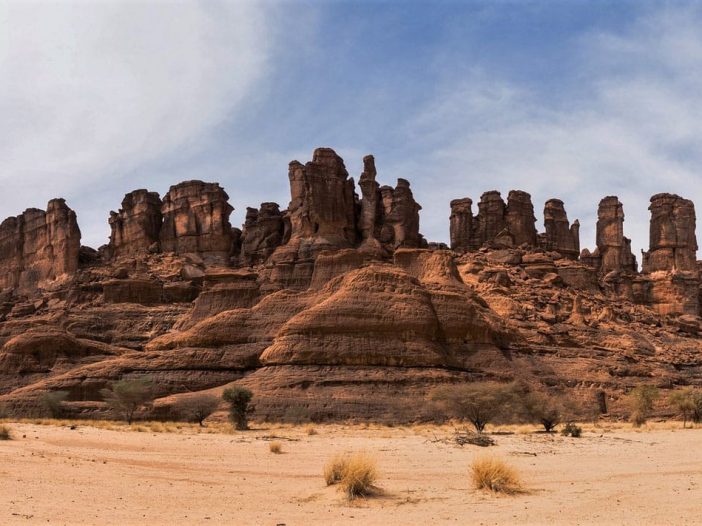 Ennedi, Lakes of Ounianga and Zakouma; this article takes you on a journey into the history, culture and landscapes of one of the remotest countries of Africa: Chad.
---
Are you ready to go on a deep dive into the Sahara. Diving into a desert? Are we being ironic? Not quite! The Sahara desert was once a primordial ocean, home to mysterious sea creatures like a 12-metre long sea snake.
As the climate changed and the seas and oceans dried up, wildlife retreated to the few places where there was still water. Middle Holocene remains and rock paintings show that West African crocodiles (Crocodylus suchus) were found across the whole Sahara. Until the beginning of this century, many permanent waters in the Sahara still housed relict populations. Remarkably, till today, a small relic population of desert-adapted crocodiles survives in the pools of the Archei Guelta of the Ennedi Plateau, Chad.
---
Where in the World is Ennedi?
Think Sahara. Think remote North-Eastern Chad. Think Ennedi.
You've heard about World Heritage Sites. There are 209 World Heritage Sites chosen for their natural significance, and 835 chosen for their cultural/historical significance. But there are only 38 chosen for both natural and cultural/historical significance. The Ennedi Natural and Cultural Reserve is one of those 38.
The sandstone Ennedi Massif stretches over 40,000 km2 and has been sculpted over time by water and wind erosion into a plateau featuring canyons and valleys that present a spectacular landscape marked by cliffs, natural arches and pitons. In the largest canyons, the permanent presence of water plays an essential role in the Massif's ecosystem, sustaining flora and fauna as well as human life. Thousands of images have been painted and carved into the rock surface of caves, canyons and shelters, presenting one of the largest ensembles of rock art in the Sahara.
Ennedi Massif was declared a World Heritage Site by UNESCO in 2016 for its unique natural formations and rock art that dates back 7,000 years. Ennedi Natural and Cultural Reserve area formally came under the long-term management of African Parks in partnership with the Government of the Republic of Chad in February 2018.
Despite intense poaching in recent decades exterminating most wildlife in the reserve, the remaining biodiversity in this unique landscape is remarkable. Aside from crocodiles, it is home to over 525 plant species and at least 199 bird species which pass through on their transcontinental migratory routes. Mammal species include Barbary sheep, Dorcas gazelle, striped hyaena and desert lynx, among others.
This ancient landscape remains an important resource for two semi-nomadic groups in need of pastures and water for their livestock.
---
African Parks at Ennedi
2018 served as the first year that African Parks began to formally manage Ennedi, during which our staff discovered the last population of North African, or red-necked, ostrich residing in the north of Chad. For two decades, scientists considered the subspecies to be locally extinct in the Ennedi Massif, but the discovery of around six individuals (male and female) in the northeast of the reserve offers renewed hope for the world's largest living bird.
African Parks also launched the first of a series of camera trap surveys to document the mammal presence in the Ennedi Massif. The first fifteen camera units revealed the presence of 14 wild mammal species and the full data set will be analysed soon.
---
The Lakes of Ounianga
Are you ready to encounter a landscape of lakes in a sea of desert?
As the climate changed, seas and lakes transformed into the golden sands of the Sahara Desert. Almost every lake and large water body disappeared — except for the Lakes of Ounianga, located not too far from Ennedi. In 2012, UNESCO declared the Lakes of Ounianga the first World Heritage Site of Chad.
The Ounianga Lakes are of two kinds: the western lakes (Ounianga Kebir) with extremely salty water (six times more salty than oceans), and the eastern lakes (Ounianga Serir) that have floating reeds to minimize evaporation, and are thus fresh-watered with some fish.
The landscape is dream-like: blues and reds of lake water (the different colours are because of minerals and algae), green palm groves, and yellow and orange tongues of sand. The Ounianga region also has areas where the topography seems positively Martian in nature: carpets of odd orange rocks and orange sand. The lakes offer a hospitable habitat for both humans and animals under the most extreme conditions. Here you can see jackals, the fennec fox (a small fox with big ears), and marbled and cape teals.
---
A History of Climate Change
Two scientists, Stefan Kröpelin of the University of Cologne and his Chadian colleague Baba Mallaye of the Technical Committee for the Implementation of the World Heritage Convention, have spent several decades investigating how the climate has changed in the Sahara over the last 130,000 years, and how humans have reacted to these changes.
Their research has shown, for example, how the history of climate change over the last 10,500 years can be seen in the sediments of the lake bed. Or how the reading of petroglyphs in the rock art of Ennedi can show the slow onslaught of drought conditions in the region. Their work has been instrumental in Ounianga and Ennedi being attributed as World Heritage Sites.
The species lived sometime between 7 and 6 million years ago, and were thought to be able to walk upright. Walking upright may have helped this species survive in diverse habitats, including forests and grasslands. Although we have only cranial material from Sahelanthropus, studies so far show this species had a combination of ape-like and human-like features. Ape-like features included a small brain (even slightly smaller than a chimpanzee's), sloping face, very prominent browridges, and elongated skull. Human-like features included small canine teeth, a short middle part of the face, and a spinal cord opening underneath the skull instead of towards the back as seen in non-bipedal apes.
---
Chalo Africa Expedition to Chad 2020
Chalo Africa is heading to Chad in February 2020 on a unique expedition covering Ennedi, Ounianga, and Zakouma. This is a 6-person small group tour from February 21, 2020 – March 11, 2020. Only 2 seats remaining!
If you are interested in learning more about Chad, visit our Chad Safari Tours page here.