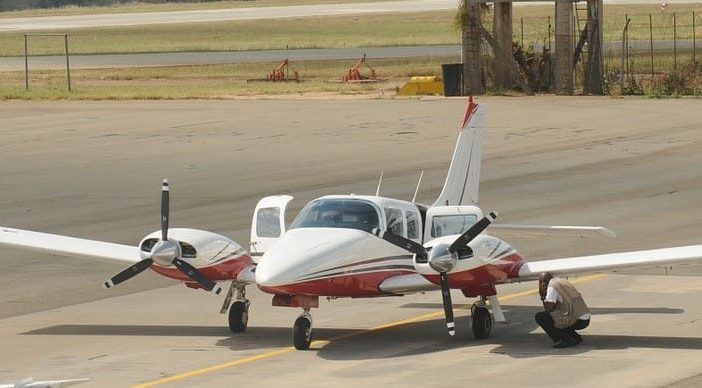 What is a fly-in safari?
If you choose to fly from one park to another while on safari, this is called a fly-in safari. This is the perfect way to explore different parts of country without struggling through dusty or potholed roads. You also get to see much more in less time.
Planes can range from small 20-40 seater jets to 2-4 seater prop planes and everything in between. Helicopters are also on offer now for transfers, though they are used more often for scenic flights.
Fly-in safaris usually begin in the port of your international arrival. For example, if you were going on a 3-Day Masai Mara fly-in safari in Kenya, you would take an international flight to Nairobi. Depending on your flight arrival time, we would either transfer you to Wilson airport, where you would board your flight. The plane would drop you off in an airstrip directly within the Masai Mara, closest to your lodge or camp. Most airstrips in game parks are not tarred, but dirt tracks. A camp representative would meet you at the airstrip, and would take you to your camp, most likely doing a game drive en-route. After 2 nights of bliss in the Mara, you would be transferred back to the airstrip for your flight back to Nairobi and international flight home.
Should I choose a fly-in safari?
We recommend fly-in safaris to all our guests, if it fits their budget. Since most wildlife safaris take place via 4×4 vehicles, it can get tiresome to travel all day from one park to another, only to spend the majority of the next day inside a vehicle on a game drive. It is especially recommended if time is a constraint.
Are fly-in safaris expensive?
This is a tricky question. The answer is both yes and no. Depending on your location, if you are on a private safari travelling in a group of 4, it may be cheaper to hire your own vehicle and guide. If you are only two travellers, it may be cheaper to do a fly-in safari. In some locations like South Africa, where self-drive is possible, it is usually cheaper to drive than to fly. Ask us for guidance, and we will give you the best option.
What is an Overland or Drive-in Safari?
You can choose to drive from one park to another – this is called a "drive in" safari. This type of transport is usually cheaper but involves more time on the ground than the "fly-in" safari, where you typically fly from one park to another. We will recommend one or the other depending on your time constraints and budget.
Vehicles can be closed Jeep/Gypsy type vehicles with retractable roof openings/hatches. These are common in East Africa. Vehicles can be completely open-sided Land Rover/Land Cruiser type vehicles, with or without a sun shade or canopy. These are usually more common in southern Africa.