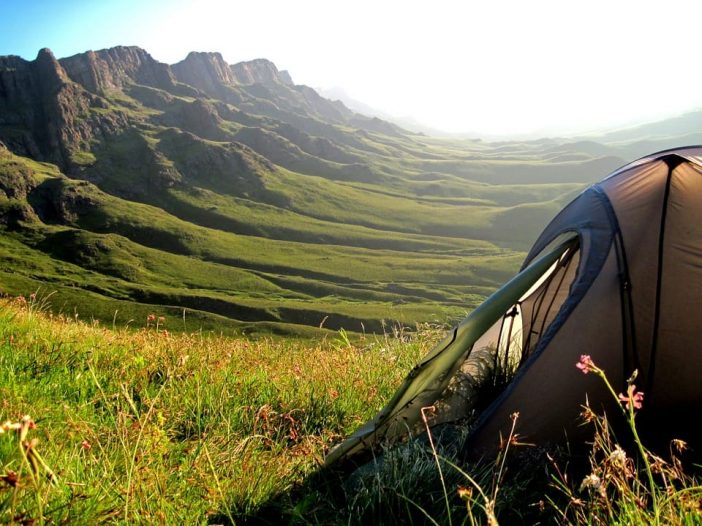 There are plenty of accommodation types available for all kinds of travellers on safari in Africa.
Safari Lodges
A lodge is a structure with solid walls and windows. These are usually hotel-like structures or 'bandas', i.e. individual rooms with solid walls and windows. Usually equipped with running hot and cold water, flush toilets, air-conditioning, electricity etc. This is a good option for families, older travellers and anyone who wants to ensure access to all modern comforts.
Permanent Tented Camps
A permanent tented camp usually has all the facilities stated above, but its "walls' are made of canvas or another material such as reeds. Africa under Canvas is a special experience and one we recommend wholeheartedly. Tented camps are usually lit by solar power or by generators that are run after the guests leave camp for the day. Water can be running hot or cold, or provided upon request. Full bathroom facilities are en-suite.
Semi-Permanent Tented Camps
A semi-permanent tented camp has a lighter footprint, and these camps are usually broken down each year when the safari season ends. They are also called 'seasonal camps'. Because of the seasonal and temporary nature of these camps, you will not have permanent access to electricity (charging outlets are usually found at a central location like the lounge tent). You will have en-suite flush toilets and shower facilities, but water for bucket showers will be provided on request.
Mobile Safari Camps
Mobile camps precede the guest from one site/park to another. Guests sleep in full-size Meru tents (luxury mobiles) or smaller mini-Meru tents or large or small dome tents (medium or light weight mobiles). There is usually a mess cum lounge tent that accompanies the camp, as well as staff tents for the support staff. These camps have no running water or electricity, and bathroom facilities can be en-suite or shared long/short-drop loos that are shared by the group.
Self-Camping
Self-drive and self-camping are also possibilities for the intrepid adventurer. South Africa and Namibia are excellent self-catered destinations, though with some careful planning, this type of adventure is available in most African countries. Self-drivers can stay in the lodges and camps described above, or travel in fully-kitted out vehicles with rooftop tents and built in refrigerators! Camping facilities range from a private to public sites that can simply be a basic cleared out patch of bush to campsites with running water and ablution facilities.