Botswana Travel Guide
---
About
History of Botswana
Botswana was first inhabited by the San and the Khoi people, soon followed by the Bantu-speaking Batswana, who eventually became the majority ethnicity in the region. The Tswana tribe, divided into eight smaller tribes which administered their rule, was mostly composed of hunters and farmers.
In the 19th century, discord between the inhabitants and newcomers increased (most significantly with the Boers who settled the Transvaal and subjugated the Batswana to their rule), and in response, the British Empire formed the British Protectorate of Bechuanaland, which it remained until 1966, when it became independent under the name, "The Republic of Botswana."
The first president of Botswana was Seretse Khama of the Bamangwato Tribe's Khama dynasty, and the government was both modelled on the British system and allowed for the fusion of tribal and Western government.
But between 1885 and 1966, Britain had not invested significantly in the economic development of the region, and so at the time of its independence, Botswana was one of the poorest countries on earth. Its sparse inhabitants were mostly pastoralists and agriculturists, and the infrastructure was meagre. A sudden change of luck came when, soon after independence, massive quantities of diamonds were discovered under the Kalahari sands. Since that time, Botswana has never looked back and has become not only one of the richest countries in Africa, but also one of the premier safari destinations on the continent.
Geography
Geography of Botswana
The landlocked country of Botswana lies in the centre of the Southern Africa Plateau. To understand why Botswana safaris are so unique, it is important to understand the geography of Botswana. In the northwest, the Okavango River drains inland into an extensive swamp area. Botswana Delta tours occur here and are a thrilling experience. In the southwest, the Kalahari Desert features a vegetation composition of scrub and grasses with almost no surface water, except for what is found in the salt pans, which hold water for some time after the rains. And in the east, the Limpopo valley features a gradual altitudinal descent from 900 to 500 m above sea level, from the southeast to the confluence of the Limpopo and Shashe Rivers. Most of the cities, including the capital city of Gaborone, are located along the eastern border with South Africa and Zimbabwe.
Facts
Fast Facts about Botswana
Official name: Republic of Botswana
Demonym: Batswana (plural), Motswana (singular)
Capital city: Gaborone
Population: 2.2 million (2014 approximately)
Land area: 581,730 km²
Major languages: Setswana, English
Major religions: Christianity, Badimo, Islam, Hinduism
Ethnic groups: Tswana (79%), Kalanga (11%), Basarwa (3%), Kgalagadi (3%), White (3%), Others (1%) (2014)
Currency: Botswana Pula
Drives on the…: Left
International calling code: +267
Time zone: Central African Time (GMT+2 / IST-3.5)
Electricity: 220/240 v; South African-style electrical sockets
Major airports: Sir Seretse Khama International Airport (GBE), Maun Airport (MUB)
Parks
More than 17% of Botswana's magnificent land has been set aside for game reserves and national parks, run by the Department of Wildlife and National Parks, including the following:
Central Kalahari Game Reserve
Chobe National Park
Kgalagadi Transfrontier Park
Khutse Game Reserve
Makgadikgadi Pans National Park
Mashatu Game Reserve
Mokolodi Nature Reserve
Moremi Game Reserve
Northern Tuli Game Reserve
Nxai Pan National Park
Okavango Delta
The map above highlights some of the main Botswana safari destinations, including the Okavango Delta, Moremi Game Reserve, Chobe National Park, Nxai Pan, Makgadikgadi Pans, Central Kalahari game reserve, and Kgalagadi Transfrontier Park. Maun and Kasane in the north are the main gateways for Botswana safaris. View the entire list of National Parks and private concessions in Botswana »
Private Concessions
The Botswanan Alternative
Another important factor to consider in assessing Botswana's attractions as a safari destination is that whilst sizeable national parks and natural reserves do exist, some of the prime wildlife areas fall outside of these parks and reserves. These are the country's so-called private "concessions," awarded to safari operators on a tender basis.
Each concessionaire must comply with strict requirements, such as adherence to a sound environmental plan, maximum number of beds and vehicles in the concession, maintenance of roads and game viewing tracks, etc. At the same time, some rules that exist in formally protected areas are relaxed, and various otherwise-forbidden activities (most notably off-roading) are permitted. Off-roading often proves to be a decisive factor in tracking animals – especially in following predators during their hunts. In a nutshell, visitors to private concessions are assured of both privacy and seclusion and a larger degree of freedom in their safari activities.
Map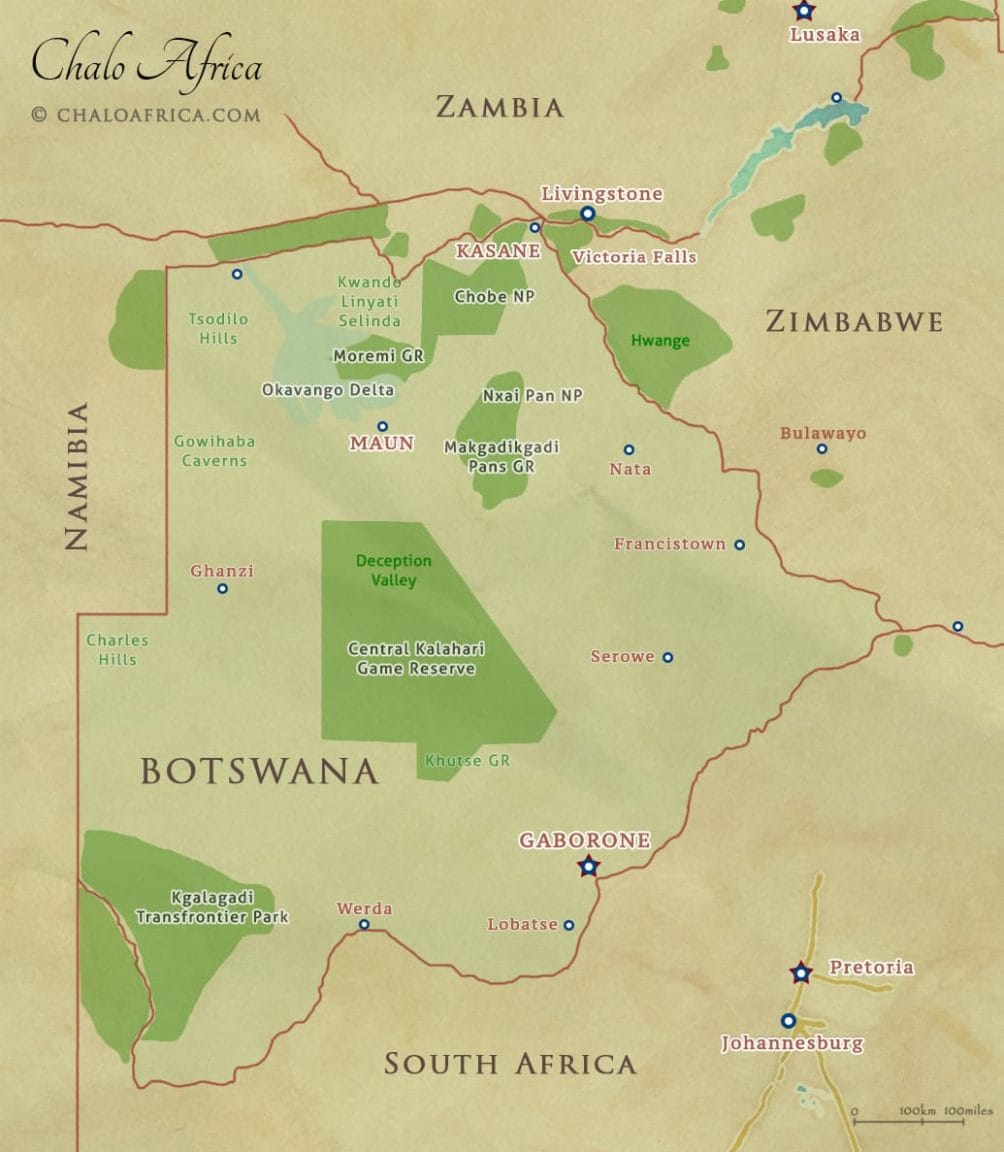 Wildlife
Wildlife of Botswana
Today, wildlife tourism plays a major role in Botswana's economy, aided by the fact that its population – in spite of all the economic development of the past few decades – is still very low, thereby permitting vast tracts of the country to remain as game-rich wilderness areas. Moreover, Botswana's government and safari industry were the first to embrace the philosophy of "low impact, high revenue" tourism, widely seen nowadays as the best way forward for the preservation of Africa's treasured wildlife areas.
Botswana is famed for having the largest elephant population in Africa, a result of vigilant anti-poaching units in Botswana and civil unrest/frequent poaching in neighbouring countries. Elephants in the region, who had previously migrated seasonally across the Chobe River into Angola and Namibia, quickly understood that Chobe National Park in particular was a safe haven for their populations (during the dry season, elephant numbers here reach roughly 50,000). Other areas of northern Botswana, including Linyanti and the Okavango Delta, are also home to significant elephant populations. For the wildlife enthusiast, the elephants of Botswana are an absolute gem, and this experience simply cannot be found in other countries where elephant populations have been decimated.
But Botswana is more than just elephants. The other members of the Big Five – lions, Cape buffalo, leopards, and rhinos – can also be found at various locations. The country also hosts the second-largest population of cheetah (accounting for about 20% of the world cheetah population), which can be found in some private concessions. The zebra migration across Botswana and Namibia is not only the second-largest zebra migration in Africa, but is also the longest known migration route undertaken by any African animal. The bird species are too numerous to describe here, but rest assured that Botswana is the birdwatcher's dream. And almost a third of the endangered African wild dog (painted dog) population lives in Botswana, though as there are only an estimated 3,000-5,000 wild dogs left in the wild, the actual population count in Botswana does not number more than a few hundred.
Cities
Top Cities
Francistown: Originally a key gold mining town, Francistown's position near the Zimbabwe border and on good roads to Gaborone, Maun, and Kasane has earned it its position as the second largest city in Botswana.
Gaborone: Botswana's capital city is a delightful combination of modern and colonial, and it is conveniently located close to Mokolodi Nature Reserve.
Ghanzi: Sometimes called the "Capital of the Kalahari," Ghanzi is a small town where the traveller can discover and explore the way of the San (bushmen).
Kasane: Kasane is the adventurer's dream – from here, you can do day trips to Chobe National Park and Victoria Falls, as well as visits to Kasane Rapids for birdwatching.
Maun: Known alternately as the "Gateway to the Okavango" and the "tourist capital of Botswana," this city on the Thamalakane River boasts Botswana's busiest airport and access to Chobe National Park and Moremi Game Reserve.
Serowe: Serowe is one of the most historically important cities in Botswana: once the capital of the Bamangwato tribe, the birthplace of the Khama dynasty which is still in place today, and the adopted home of the renowned South African writer Bessie Head.
Things to Do
Things to Do
Other than wildlife viewing game drives, there are several other activities that are recommended while on your Botswana safari:
Open-sided vehicle game drives and night game drives
Guided bush walks
Mokoro rides and canoe trails
Star-gazing
Fly-camping
San Bushmen visits (quite detailed and with many activities)
Scenic plane rides and helicopter rides,
Bird-watching, fishing, horseback riding, elephant back riding
Interaction with habituated elephants
Rock art viewing and fossil hunting
Quad biking
Houseboats and river cruises
Self-Drives
Popular Self-Drive Routes
Most travellers do not opt to self-drive in Botswana, preferring instead to work with a travel agent to plan a route and arrange transportation. For more information on how you can plan your Botswana safari, enquire now.