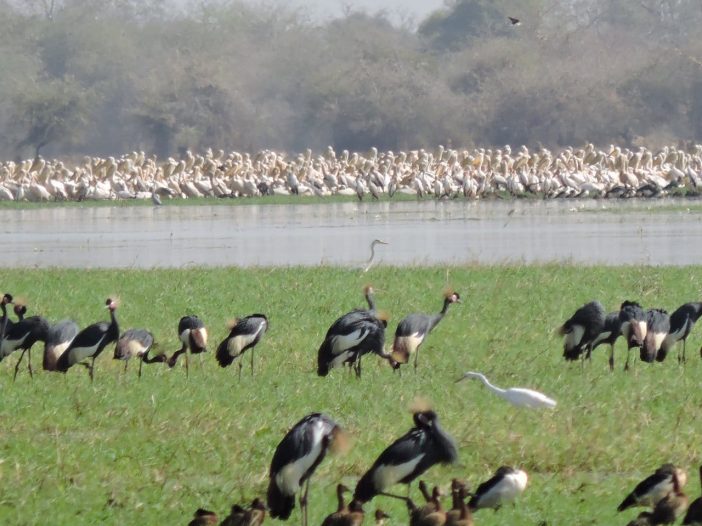 This is a SafariTalk trip report by RC88COR who travelled with us on a small group expedition in February 2020.
Like many on their first safari I visited Tanzania's iconic Serengeti and the northern circuit, but my second safari was to be very different. I did a deep dive into African wildlife conservation, community support and tourism conservation which kept leading me to a word that sounded fascinating and an organization that was truly noteworthy. Zakouma, Zakouma, Zakouma … it seemed like those in the know were all raving about this remarkable conservation success story located in a remote corner of south-east Chad. And as I read the story of Zakouma, I read the story of African Parks, a wildlife conservation organization that manages Zakouma and 19 other national parks across Africa. I was so impressed with Zakouma and African Parks that I wanted to visit so I could contribute to Zakouma's exemplary conservation story.   
Zakouma National Park is off the beaten safari track and required a thorough investigation into the logistics of travel to such a remote location and the best opportunities to visit – either solo or with a group. I did my homework, over about a 2 year period; I contacted every safari guide and agency that was leading trips to Zakouma. I even contacted Zakouma directly and inquired as to solo travel. In the end, I decided to travel with a small group led by the remarkable Sangeeta Prasad founder of the pioneering safari agency Chalo Africa and Kenyan guide/naturalist extraordinaire Zarek Cockar who was our guide for the Zakouma segment, in an itinerary that would encompass both Zakouma and the Ennedi, a rocky plateau and desert region of Chad that I longed to visit. Sangeeta's Zakouma and Ennedi trip was the only itinerary that included both areas and gave them the time they required, as well as the Ouadi-Rimé Ouadi-Achim Game Reserve in Central Chad. I definitely made the right decision and embarked on one of the most unforgettable trips of my life.
ZAKOUMA
– a truly authentic wildlife experience in Africa
– species in huge numbers and great diversity
– interesting and varied terrain 
– visited Riguiek Pan twice and it was fabulous – a birders paradise
– great for birders, but also fantastic for other species 
– the Zakouma elephants are a legendary wildlife conservation success story.  I was lucky to witness, for about an hour, a vast herd of about 300 elephants leisurely cross a river – this was the sighting of a lifetime and brought tears to my eyes
Wildlife Sightings:
– cheetah (very rare to see in Zakouma, but they are there), lions (multiple prides), african wild cat, serval
– roan, tiang, kudu, lewel hartbeest, red fronted gazelle, western kob, defassa waterbuck, bush buck, striped gazelle, bohor reedbuck, duiker
– buffalo (huge herds)
– Kordofan giraffe (large numbers)
– elephants
– striped hyena, spotted hyena
– patas monkeys, tantalus monkeys, baboons
– many civets, genets and bush babies
– ostrich
– crocodiles, nile monitor lizard, spurs tortoise
– cobra
Birds:
– enchanting clouds of red billed quelea murmurs
– carmine bee eater, red throated bee eater, green bee eater
– great white pelican
– black crowned crane
– african spoonbill
– knob-billed duck, white faced whistling duck
– egyptian goose, spur winged goods
– saddle bill stork, wholly necked stork, african open billed stork, marabou stork
– abyssian crowned hornbill, african grey hornbill, northern red billed hornbill
– bateleur eagle, tawny eagle, african frish eagle, long crested eagle
– greyish eagle owl
– senegal coucal
– abyssian roller
– spur winged plover, african wattle plover
– great white egrets, little egrets, cattle egrets
– sacred ibis, glossy ibis
– purple starling, long tailed starling, nightjars
TINGA CAMP
– loved Tinga Camp and highly recommend it
– a comfortable down-to-earth camp with a fabulous location overlooking a dried river valley that acted as an avian highway – awesome!
– the rooms were neat and comfortable with a bed, desk/chair and closet with an overhead fans, electrical outlets and mosquito nets (though did not need the nets as it was dry season so did not really notice any mosquitos)
– each room had an ensuite toilet and a separate shower and sink area
– each chalets is built with 4 separate rooms that are well sound proofed
– the main open-air reception, dining and lounge area which is also thatched and overlooks the riverbed is just simply perfect
– excellent food
– great service
– outstanding guiding and safaris (mornings, afternoons and evenings)
I visited Ennedi in late February and Zakouma in early March 2020, just before Covid shut the world down and I am so glad I went!
We flew into Zakouma on a charter flight from the Chadian capital of N'Djamena and we drove back with a tented camping overnight enroute as it is a long drive.
We did the Ennedi portion of the trip in 4×4 vehicles driving the entire distance, due to a cancellation of the scheduled domestic flights. But it was awesome – quite the roadtrip – and I would do it again in a heartbeat!
Zakouma is unforgettable! If you ever get the chance to go, GO!
It's an authentic safari in the conservation story of the century.
I will attempt to write a day-by-day trip report (might be point form) and add more photos for Zakouma and Ennedi soon.
For now, here are a few photos of Tinga Camp.
---
Day 1: Zakouma
ZAKOUMA – DAY 1
Our small group and guide Zarek Cockar flew from N'Djamena to Zakouma. The flight was about 2 hours in duration, but fascinating to see the landscape of the Sahel from such a perspective overlooking large rock formations and villages. We were met at the plane by the Tinga manager who drove us the short distance to Tinga camp while introducing us to Zakouma NP, with a few bull elephants who made an appearance along the way. We arrived at Tinga Camp after lunch to a warm reception, checked in and settled into our chalet rooms.
We decided to do a night safari from 7-10:30pm on Day 1 as our first safari in Zakouma. We did a few evening/night safaris during our week at Zakouma and this first night safari would be the beginning of our civet and genet count, as it seems Zakouma has a lot of them, more than most wildlife areas according to our guide.
I only have videos in MOV format from this night drive, but I do think there are some photos taken on other evening/night excursions coming up in the TR.
My photos are taken with a hybrid camera, nothing fancy, so the photo quality is what it is. I am interested more in taking photos as visual memories.
Read the full trip report on SafariTalk: https://www.safaritalk.net/topic/21484-zakouma-ennedi-with-chalo-africa-chad-febmarch-2020/?tab=comments#comment-325460