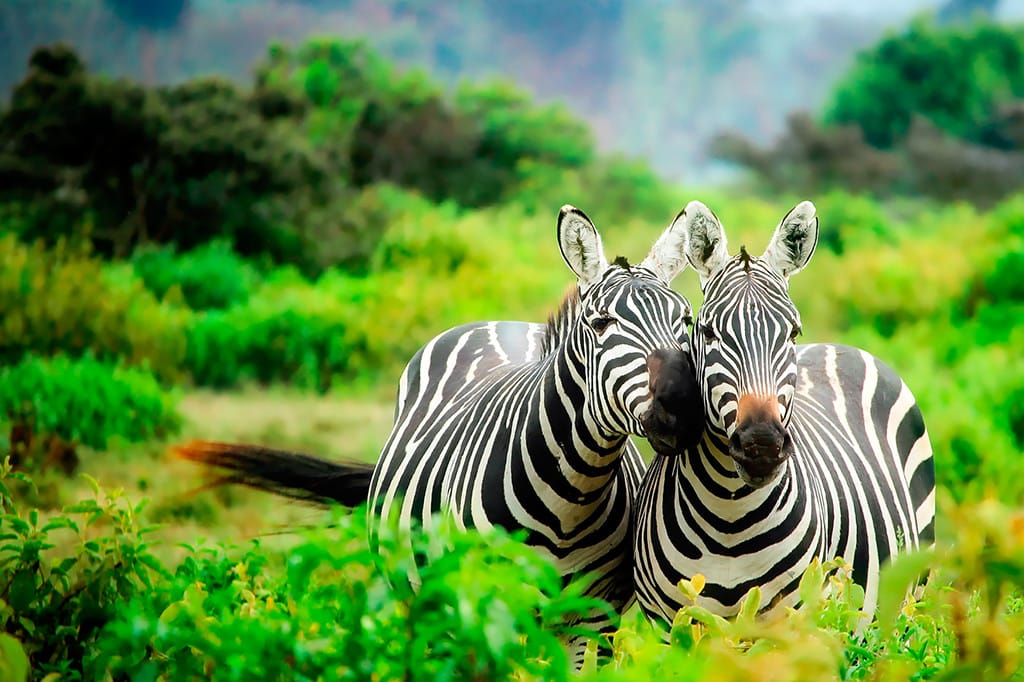 Kenya Travel Guide
Why Kenya?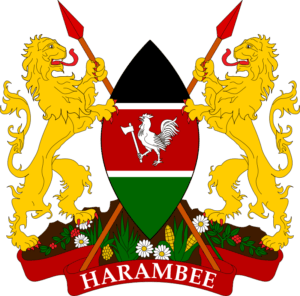 Kenya is usually the first stop in Africa for wildlife lovers. Aside from fantastic wildlife viewing, it is also quite easily accessible. Nairobi, the capital of Kenya, is a hub for airlines and easily connects to Europe, USA, India and other parts of Asia. You'll probably be surprised to hear that Kenya is less than 6 hours by air from Mumbai. In other words, you can escape the hustle and frenzy of urban life in less time and with less trouble than you may have thought possible. Indeed, if you put your mind to it, you can soon be listening to the hiss and spit of a crackling campfire as hyenas whoop-whoop in the background. Or you can be sitting in a camp chair on the open-air veranda of your canvas tent, gin & tonic in hand, relishing the colours of an African sky as a blood-red sun sinks dramatically beneath the horizon.
Kenya Safari Holidays
Kenya is one of our favourite safari destinations because there is something for everyone. Whether you are a first-time safari traveller, or if you are returning for your tenth safari, Kenya offers something for everyone. With national parks and game reserves such as the Masai Mara (home to the Great Migration) and private conservancies such a as well as some of the highest densities of big cats anywhere in the world)
Witness the Great Annual Migration of over one million wildebeest, two hundred thousand zebras and tens of thousands of assorted gazelles and wildlife sightings to dazzle the senses.
Guided bush walks and drives, night drives, fly-camping, off-roading, walking safaris, chimp walks, rhino tracking, and birding.
Mount Kenya climbs, trekking, mountain biking, horse riding, helicopter rides.
Snorkelling, kayaking, swimming, river rafting, laser sailing, para sailing, wind surfing, water skiing, scuba diving, kite surfing, river excursions, beach houses.
Camel safaris.
Cultural visits.
Spas and massages, sauna, yoga weeks, golfing, archaeological site visits.
Conservation safaris, educational safaris, village & school visits, starbeds, learning bushcraft, cultural immersion programmes, cave explorations etc.
Map
Kenya Safari: National Parks & Reserves
Kenya is home to leading National Parks & Reserves like:
Masai Mara National Reserve
Amboseli National Park
Nairobi National Park
Nakuru National Park
Lake Bogoria National Reserve
Samburu National Reserve
Buffalo Springs National Park
Meru National Park
Tsavo East National Park
Tsavo West National Park
Beaches
The Kenyan Coast is a beach lovers paradise: pristine white sand beaches, warm azure waters of the Indian Ocean, and spectacular coral reefs teeming with life and colour. Whether you want to relax after an exhausting safari in the Masai Mara or discover new world by going diving in the deep waters of the Indian Ocean, the Kenya Coast has something for everyone.
The beaches of Kenya are broadly divided into North Coast beaches (North of Mombasa) and South Coast beaches (South of Mombasa). The most popular beach town in the South Coast is Diani Beach, known for its azure waters, endless sands and gorgeous coral reefs. This is a popular kite surfing location. In the North Coast, we have Malindi, Watamu and the beautiful Island town of Lamu. Diving to see coral reefs, big game fishing, and whitewater rafting are other popular marine activities along the coast of Kenya.
Beaches along the Kenya Coast
Diani Beach
Diani Beach is located 30 kilometres south of Mombasa, in the nearby Kwale County. The beach is about 10 kilometres long, from the Kongo river to the north and Galu beach to the south (the southern point of reference is an old Baobab tree). It is adjacent to the town of Ukunda.
A small airstrip is located between the beach area and the Mombasa-Lunga Lunga road. The water remains shallow near shore, with some underwater sandbars near the surface which allow wading with a clear view of the sandy bottom. Inland from the beach, there is extensive vegetation, including numerous palm trees which cover the coastal areas, unlike the dry acacia trees of the mountainous Kenyan Highlands.
The area is known for its coral reefs, black-and-white colobus monkeys, and for the closely located Shimba Hills National Reserve, a wildlife reserve which looks out over the Indian Ocean. Diani Beach has high-class restaurants, hotels, supermarkets, and several shopping centres.
Diani Beach is also a popular kitesurfing location.
Malindi & Watamu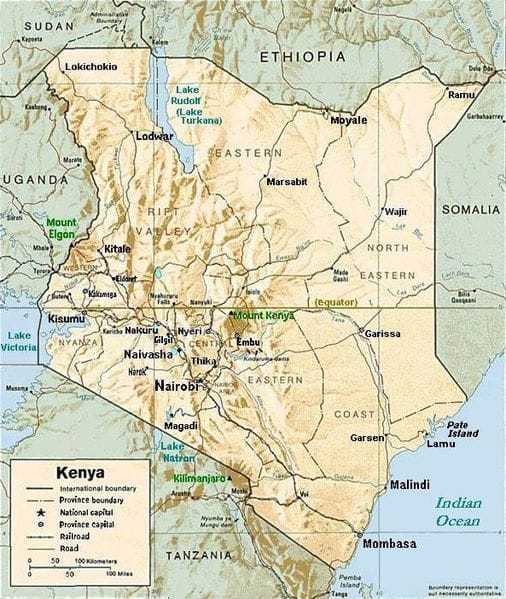 The small town of Malindi is at the centre of a strip of idyllic tropical beaches offering visitors a range of world class resorts and quiet relaxing hideaways. Further south, the sleepy village of Watamu is fronted by wide white beaches. This tranquil haven is home to several well established resorts, and many private guesthouses scattered through the forest along the deserted shore.
At Watamu a Marine National Park has been established, an ideal day trip for divers and snorkellers alike.
Northwest of Malindi is the spectacular Marafa Depression, locally known as Nyari and popularly known as Hell's Kitchen. An extensive series of sandstone gorges and sheer gullies, this unique and otherworldly landscape has become part of local folklore.
The thick jungles of the Arabuko Sokoke Forest reserve hide a world of wonders. In the cool of the forest winding paths will take you in search of rare endemic birds and mammals, and visiting herds of Elephant.
The forest holds another secret, the lost town of Gedi, a deserted trading Swahili town hidden deep in the forests, whose winding passages and crumbling walls tell of a long and mysterious past.
Walk through the Forest, explore the mangroves by boat, dive on the reef or try your hand at big game fishing.
Lamu
Lamu is a place like no other, a peaceful tropical island where life is lived at it's own relaxed rhythm, but a place whose history is as mysterious and fascinating as the winding streets of it's medieval stone town.
The island itself is a beautiful place of rolling dunes and endless beaches, where tiny villages nestle among coconut and mango plantations and lateen sailed dhows ply the waters. But Lamu's real attraction is its Old town.
The town of Lamu began life as a 14th century Swahili settlement, but the island has seen many visitors and influences, including Portuguese explorers, Turkish traders and the Omani Arabs. All left their mark, but Lamu developed its own particular culture, which has ultimately endured.
Lamu's narrow streets remain unchanged, and in the markets and squares around the fort life moves at the same pace as it always has. There are no vehicles on this island, and the donkey and the dhow remain the dominant form of transport.
Dhow safaris can take you beyond Lamu into the surrounding archipelago, where isolated villages, ancient ruins and a few luxurious and exclusive resorts lie hidden among the islands of Manda, Siyu, Pate and Kiwayu.
This idyllic island speaks to the heart and soul, and a trip to Lamu is a romantic experience that can become a lifelong affair.
Getting There
The main port of entry into Kenya is usually Nairobi (Jomo Kenyatta International Airport). Most international flights will fly into JKIA. Domestic flights usually depart from Wilson Airport, which is a 30 minutes to 1 hour drive depending on traffic.
---
Airlines that fly to Kenya
Most leading airlines will fly to Kenya either direct (Kenya Airways) or via major hubs such as Dubai (Emirates), Doha (Qatar), Abu Dhabi (Etihad), Frankfurt (Lufthansa), London (British Airways), Seychelles (Air Seychelles), Addis Ababa (Ethiopian), and more.
---
Domestic Flights in Kenya
It is possible to do a safari in Kenya both by road (overland) or by flight (fly-in) safari. We usually recommend a fly-in safari as it saves you time and roads are often dusty and bumpy. Our travel specialists will help you decide what is best for your itinerary, and will help you book the domestic flights as well.
All domestic (internal) flights usually leave from Wilson Airport in Nairobi, and connect to various parks and destinations around the country. These are generally "bush flights", so Cessna Caravans or similar. Popular domestic flight companies include SafariLink and Air Kenya.
History
This East African country has an ancient and proud history. The bones of early hominids have been found here, dating back millions of years, and evidence suggests that modern people (Cushitic-, Nilotic- and Bantu-speaking) have inhabited the region for roughly 10,000 years. Evidence of ancient Greek and ancient Roman contact has been found in Kenya, but more significant were the trading ties between East Africa and Asia: that is, Arabia, Persia, India, Indonesia, and China. It was the mix of the indigenous culture and these Asian traders' cultures that gave rise to the new, Swahili civilization.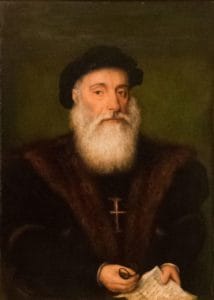 When the Portuguese explorer Vasco de Gama arrived on the East African shore in 1498, he encountered a number of prosperous city-states. For the next century, the Portuguese sought control over East Africa and the Indian Ocean trade, but they were eventually ousted with the help of the Omani Arabs, who set up their capital on the island of Zanzibar. The Arabs remained in power until the British Empire established the Protectorate of Kenya in 1885, and then the Colony of Kenya in 1920. The indigenous people of Kenya resisted British rule, fighting against the construction of the Kenya-Uganda Railway, as well as the appropriation of their land by white settlers. After many concerted efforts at political organization, the Kenyans set up an independent government under president Jomo Kenyatta in 1963.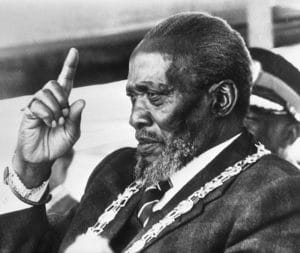 After independence, Kenya struggled to find the balance between fair democracy and political stability. Kenya is, after all, a country of great diversity. From the nomadic Samburu, the camel-herding Somal and Rendile, to the world-class Kalenjin runners – from the wood-carving Akamba, to the Kikuyu, Kisii, Luo, Masai, and the coastal Arabic/African Swahili culture, Kenya encompasses more than 40 distinct ethnic communities, each with its own tale and its own wisdom to impart. But over time, Kenya has undoubtedly become the top tourist and safari destination in East Africa, with something for everyone.
Fast Facts
Fast Facts about the Republic of Kenya
Official name: Republic of Kenya
Demonym: Kenyan
Capital city: Nairobi
Population: 45 million (2014)
Land area: 581,209 km²
Major languages: Kiswahili, English
Major religions: Christianity, Islam, Indigenous
Ethnic groups: Kikuyu (22%), Luhya (14%), Luo (13%), Kalenjin (12%), Kamba (11%), Kisii (6%), Meru (6%), Other African (15%), Other Non-African (1%) (2012)
Currency: Kenyan Shilling
Drives on the…: Left
International calling code: +254
Time zone: East Africa Time (GMT+3 / IST-2.5)
Electricity: 220/240 V; British-style electrical sockets
Major airports: Jomo Kenyatta International Airport (NBO), Wilson Airport (WIL)