Let's Go to TChad with Joel (Chad Safari 2022 – only 1 spot left)
A Scheduled Trip to Chad

Highlights
Tchad has true otherworldly beauty: seas of orange-yellow sand, multi-coloured oases, and surreal rock formations. After all, most of the country is a part of the Sahara Desert. But Tchad also has one of the world's largest single herd of elephants, many lions, some surprising rhino and cheetah, 70% of the world's rare Kordofan giraffe and over 10,000 Central African savanna buffalo, which range in colour from jet-black to magenta.
This is wild adventuring, including driving across seas of sand, seeing rock paintings that are 1000s of years old, and coming face to face with elephants whose recovery is one of the most heartwarming of wildlife conservation stories in the modern era.
But that's not all. Meet dromedaries. See the Toubou. Visit a guelta. What are these? Read on. And last but not least - in these times, if you are looking for a holiday with an emphasis on isolation, then look no further than Tchad. Truly.
---
Scheduled group tour from
February 20, 2022 - March 5, 2022
Starting from
EUR 12,250
per person sharing
Duration
14 days / 13 nights
Accommodation
Tented Camps (Mobile and Permanent)
Exploring
Ennedi, Ouadi Rimé Ouadi-Achim, Zakouma National Park
---
About this Safari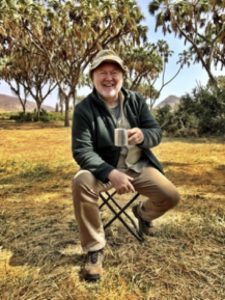 Dear Adventurers and Explorers:
Chalo Africa has given me the extraordinary chance to lead an expedition to the African nation of Tchad in February 2022! In recent years, as safaris have become more and more popular with the general public, Tchad has emerged as a "must visit" front-runner for safari goers and adventurers seeking a true wilderness experience, crowd-free, the look and feel of a Classic African safari of the last century.
We will start this trip with the great desert of the north, the Sahara and the Ennedi Plateau! The world's largest desert! This is a dream of mine ever since seeing photographs of this incredible landscape! Think Star Wars or the US Southwest on steroids! We'll drive off road over the dunes (no worries our guides know where they are going!) through the most surreal landscapes I've ever seen, camping in quiet solitude, with nothing but the desert sky and stars overhead. During our time in Ennedi, we'll interact with desert nomads herding their camels and goats, and enjoy this ancient place of prehistoric rock drawings, oases and unimaginable geological formations—we might even find an abandoned Libyan tank or two being swallowed into the dunes! The Ennedi Cultural Reserve is a UNESCO World Heritage site and protected by African Parks (AP) – but more on AP later.
After Ennedi, we will visit the Ouadi-Rimé Ouadi-Achim Game Reserve in Central Tchad— headquarters for the reintroduction of some of the rarest species of desert wildlife on earth! Scimitar-horned oryx, Addax, Dama gazelles, Dorcas gazelles and Barbary ostrich…several of which had been declared extinct in the wild.
And then, the pièce de résistance – at the request of the government of Tchad, African Parks took over Zakouma National Park 10 years ago. The park had been a place of carnage for elephants, poaching had ravaged its herds, but AP successfully locked it down. Now the elephant population is breeding again and recovering its numbers. It's one of the great present day success stories in conservation when so much of the news is negative. They have also re-introduced black rhino into their former range—one of my favorites!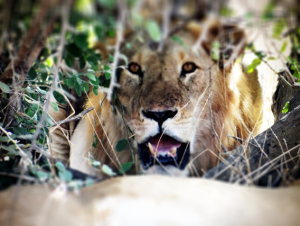 My previous visit to Zakouma evoked strong emotions at the sheer abundance of wildlife— an exuberance of plenty! Undulating clouds of quelia coming to drink in the evening, healthy populations of lion and other predators. In fact, Zakouma is the closest place to Europe where the "Big Five" can be observed! Night safaris are especially productive—it's where I spotted my first serval cat (it took 19 safaris!) in fact, it's where I spotted my first seven servals!
Ordinarily I would recommend a first time safari goer to visit East or Southern Africa, but if you have an explorer's spirit, can roll with the punches and a thirst for high adventure — this safari really fits the bill. The wildlife opportunities afforded in Zakouma include the "Big Five" but also many fascinating endemics. For those that would be thrilled to see wildlife on the Red List — some of the rarest in the world — it fits the bill. And to see some of the most surreal, enthralling desert-scapes on the planet, this is not a safari to miss!
I do hope that you decide to join me on this extraordinary adventure.
Joel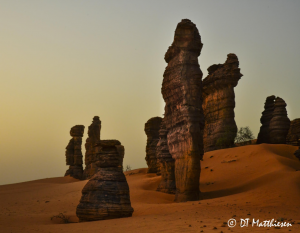 Trip Highlights
The elephants of Zakouma National Park and their story of hope
Flocks of birds that completely blanket the sky and earth
The one and only picture-book Sahara Desert & incredible rock formations
Prehistoric rock paintings and petroglyphs showing people dancing, herding, and hunting, and depicting the wildlife that flourished millenia ago
Rarest of rare antelope and bird species on the IUCN Red List
People, culture, landscapes and incredible wildlife in a remote part of the world!
Your Guides
This trip will be led by Joel, in conjunction with a local guide for the Ennedi and Zakouma section, Zarek Cockar, one of Kenya's few accredited gold-level guides, to provide a comprehensive understanding of the region's ecology.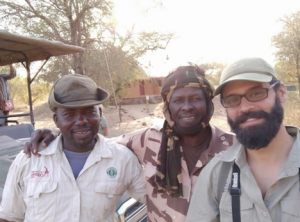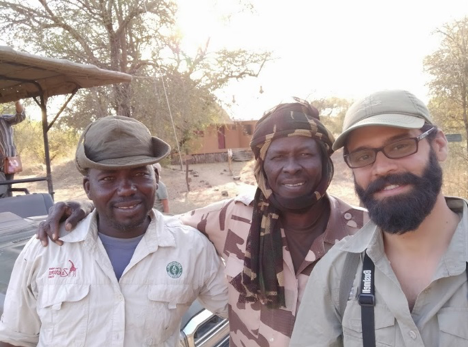 " There's something special about being in a wild environment, knowing there are very few other vehicles anywhere within the surrounding 3,000 Kmsq, and that very few other visitors will ever see this place. Every drive that continued after dark was absolutely superb, and we were able to find a wide variety of species from Greyish Eagle Owl to Striped Hyena, and so many Genets and Civets that we stopped counting. Our experience with the elephants, watching approx. 300 cross a river over the course of almost an hour, was nothing short of surreal.  It was one of the most emotional, beautiful wildlife experiences I've ever had as a guide." – Zarek Cockar
---
Note: This is is  not your typical luxury "glamping safari". Although every effort has been made to make this trip comfortable, the emphasis here is on the experience and adventure. Please note that the cost of the trip reflects the luxury of its isolation, not the luxury of upmarket facilities.
---
Cost: The cost of this trip is 12,250 Euro per person (approximately US $15,000 based on current exchange rates). Please know that this tour will be billed in Euros. There is no extra charge for solo travellers (single tents available at no extra cost). 
Note: Since this is a group trip, we need a minimum of 6 participants to run this trip.
---
---
Day By Day Itinerary
Day 1: February 20, 2022 – Arrive in N'Djamena, Tchad

Our team will meet you at N'Djamena's Hassan Djamous International Airport (NDJ) and transfer you to your lodging…

Please contact us for the full itinerary. We'd love to hear from you!
Day 2: February 21, 2022 – The Ennedi Natural and Cultural Reserve

After breakfast, you will be transferred to the airport for the first of your 3 private chartered flights of the trip. This first one will be a roughly 1.5-hour flight from N'Djamena to a remote airstrip in the Ennedi Natural and Cultural Reserve……

Please contact us for the full itinerary
Days 3 through 5: February 22-23-24, 2022 – The Ennedi Natural and Cultural Reserve

The Ennedi Plateau is a sandstone bulwark in the middle of the Sahara Desert. 75% of it has yet to be explored and that's where you come in! This is a spectacular landscape marked by sandstone cliffs, natural arches, labyrinths, and bizarre rock formations.

Prehistoric people lived in its sandstone grottos…

Please contact us for the full itinerary
Day 6: February 25, 2022 – Ouadi Rimé Ouadi-Achim GR

Today we will leave the rhythm of the desert behind and head south-west along an unremarkable dirt and gravel track to the Ouadi-Rimé Ouadi-Achim (OROA) Game Reserve in the center of the country. With its 77,950 protected square kilometers (the size of Scotland), OROA is arguably one of the largest protected areas on the African continent, but it is also a place whose name is simply unknown – even to Africa aficionados!

OROA is the site of one of the most extraordinary "re-wilding" experiments taking place in Africa today, where "extinct in the wild" (EW) and other critically endangered species such as the addax, scimitar horned oryx, Dama gazelles and Barbary ostriches are being given a new lease on life, thanks to the relentless work of the Sahara Conservation Fund, in partnership with a number of other conservation organizations worldwide…

Please contact us for the full itinerary
Day 7: February 26, 2022 – To Zakouma National Park

Enjoy a final morning at OROA, perhaps visit the bomas, chat with the rangers, drive in the park – and then in the late morning (timing TBD), you will be driven by the team to the nearby airstrip, for your second charter flight of the trip. The flight from OROA to Zakouma National Park today will take roughly 2 hours…

Please contact us for the full itinerary
Days 8-13: February 27-28; March 1-2-3-4, 2022 - Zakouma National Park

For lovers of wildlife, Zakouma is also one of the best conservation stories ever.  From the 1980s, when Zakouma's elephant and buffalo population had dwindled to near-zero until today – African Parks has stabliized and restored the elephant population to over 650 (many calves among them) and over 10,000 buffalo. The Zakouma turnaround story is sobering, profound and heroic: people have literally given their lives for this.

Apart from the elephants and buffalos, Zakouma wildlife includes lions (a healthy population of around 130), leopards (hard to see, though possible on night drives) and yes, cheetah!! Black rhino were re-introduced recently, though very hard….

Please contact us for the full itinerary
Day 14: March 5, 2022: Back to N'Djamena & onward flight home

This adventure will end with a last 2-hour charter flight to from Zakouma to N'Djamena. Depending on the timing of your onward flight, you can either connect directly upon landing. If your flight is for later in the day, then we have booked 3 day rooms at…

Please contact us for the full itinerary. We'd love to hear from you!
---
Tour Accommodation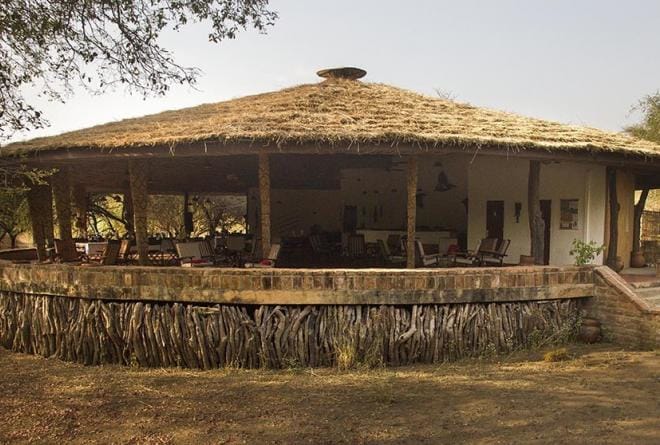 ---
More
Cost

The cost of this trip is 12,250 Euro per person. There is no extra charge for solo travellers (single tents available at no extra cost).

Note: Since this is a group trip, we need a minimum of 6 participants to run this trip. Please contact us for the detailed inclusions / exclusions.
---
Gallery
---
Best Time to Visit
This safari begins and ends in N'djamena, Chad, which has frequent connections with Addis Ababa (Ethiopian Airlines). This is a fly-in safari with private charters included.
---
Enquire Now
---
Other Recommended Safari Tours
View all safari tours in Chad »